Vice President Int'l Bus. Dev. (FMCG)
Vakgebied

Management

Salaris

Salary undisclosed

Locatie

Amsterdam

Dienstverband

Permanent

Headhunter

Top Of Minds
Vice President International Business Development Chobani Yogurt
Excellent remuneration + free yogurt
About Chobani
Typical for this organisation:
Nothing but good
Passionate about both it's company and yogurt culture
Bizarre and exceptional success in FMCG
Name one startup company in FMCG that leaped from 5 to 1.100 employees in only four years time? No, Red Bull was a product pushed into the market by corporate funded marketing. Yes, Innocent Drinks – that's not a bad guess. But not nearly as radical as what has happened to Chobani Yogurt.
The stellar growth (up to 700 million US dollar last year) comes from offering a differentiated mass product that has no competition. It's Greek Yogurt, which has a much better taste and nutritional value (proteins!) than regular yogurt. Yet it's not fat – as Greek Yogurt normally is. But, the product is just one reason why we have been successful. The people of Chobani, their 'nothing but good' philosophy and their affinity with Manufacturing are other important reasons.
The Turkish family of its 42 year old CEO and founder Hamdi Ulukaya has been in dairy production for many generations. A man named Mustafa has mastered the art of taking out the fat from the yogurt without losing any of it's rich and deliciousness.
But that's not all of it. It's not just the product that makes this company unique, it's just as well the pure and unspoiled passion of the people who make and distribute Chobani to its host of enthusiastic and engagement customers. The marketing success that Chobani is doesn't come from spending the biggest budget on above the line marketing, it's derived from creating a loveable product that consumers will promote themselves.
Nothing but good is the central motto at Chobani, which contains only natural ingredients. It's made in factories run by people who love their product and take much pride in its production. And it's in the heart of the employees to do nothing but good. Every year, 10% of profits is donated to various charities through its foundation Shepherd's Gift. The rest of the money is invested back into the company, that is operated autonomously, without seed or venture capital.
The position
Now that Chobani is the US' number #1 yogurt, it's time to bring it to – as our friends at the other side of the Atlantic call it – ROW (Rest Of World). International expansion is a top priority within the firm and already underway. After the acquisition of Bead Foods in Australia that factory is getting ready to produce Chobaine; the product is already being sold in Canada, and Amsterdam has been chosen as the location for an International Business Development team that will cover Europe, Latin America and Asia.
This team will be both formed and headed by the VP International Business Development and consists a number of seasoned professionals soon will be recruited.
The organisational structure at Chobani is very fluid and organically adapts to adequately meet the challenge at hand. And also this team will grow, change and reform to meet the business' requirements.
This is as greenfield as you can imagine. Tomorrow, the first step will be set. The day after, another one. And in less than a year people somewhere in the world will be eating Chobani for the first time because of you. Within a few years time it will be the most loved diary brand in yet another country.
No politics, no heritage. Travelling light is the fastest way to grow.
Candidate profile
Relevant Master's degree, could be in business or in food
10 - 20 years of business development experience, among which in FMCG and/or food industry
Well developed in these competence areas: Green field study, Market prioritization, Market entry strategy, B2B or B2C marketing & sales and Acquisition
Has a strategic mind but is just as hands-on decisive. Can as quickly divert when scanning options as converge to put wheels into motion
Able to deal with a high level of freedom
High energy level and product passionate
Embraces nothing but good
Interesting?
You can apply to this position by using the form below.
Please note: This is a repost of a previous position due to the re-opening of the application procedure. Candidates who have applied in the past, are kindly requested not to do so again.
Deze procedure is gesloten (10-04-2012).
Over deze headhunter - Top Of Minds Executive Search
Top of Minds is een Executive Search bureau met een internationaal werkveld. Onze recruitment Consultants hebben allemaal een individuele focus, van FMCG en Retail tot e-Commerce en Digital. De succesfactor van Top of Minds is storytelling: great stories attract great people.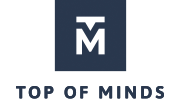 Meer vacatures van Top Of Minds Executive Search op Lintberg
Top Of Minds Executive Search is sinds 2008 aangesloten bij Lintberg.