Head of Product Management & Innovation
Deze procedure is gesloten (07-05-2019).
Vakgebied

Management

Salaris

Salary undisclosed

Locatie

Raamsdonkveer

Dienstverband

Permanent

Headhunter

Luke Recruitment for Assa Abloy
The organisation
Assa Abloy is the global leader in door opening solutions. It has a worldwide turnover of approx €7.3bn with the EMEA Division having sales of approx €1.8bn. The Benelux Market Region has sales of €87m and approximately 250 employees.
The Benelux Market Region is looking for a Head of Product Management & Innovation who will be fully responsible for all the Product Management, Research & Development and Service activities in the region.
Assa Abloy operates in a fast moving market and is a product driven company. By pushing innovative products in the market which truly fit the needs of customers, Assa Abloy consolidates his position as leading A-brand in the market. Assa Abloy works with several labels like Yale, LIPS, Nemef.
Assa Abloy holds several patented products and is leading in the transition from mechanical to electrical/mechanical door locks. These next generation door locks are increasingly being connected to other (digital) systems.
The position
The Mission of the Head of Product Management & Innovation is to push new products into the market, focusing on High Impact Products and strategically important product categories. As Head of Product Management & Innovation, the candidate will support and stimulate Product Managers and R&D to deliver new products into the market which truly fit customer needs. The Head of Product Management & Innovation will work closely together with the Commercial Director and Marketing department to develop effective marketing campaigns.
Given the context of the role, it is crucial that the candidate understands technology, feels operationally competent and truly is commercially driven. The candidate will define and own the strategy in a demanding environment.
The Head of Product Management & Innovation will lead eight Product Managers who are responsible for the entire product category. They are involved from the beginning of the process till the end product, including packing, pricing and market entry. In addition, the candidate will lead a team of three Data-Experts who track all traded goods, five Service Experts and three R&D Specialists.
The Head of Product Management & Innovation is based in Raamsdonksveer and some of the employees of the team work in Belgium (Wemmel, close to Brussel and Nieuwpoort), so it is required to visit those colleagues on a regular basis.
Position within the organization:
The Head of Product Management & Innovation will be part of the Senior Benelux Management Team;
lead the Benelux Product management & Innovation Team;
reports to the Benelux Market Region Manager.
Tasks & responsibilities
Develop and maintain product road maps, generating plans and manage product portfolios from cradle to grave giving special focus to HIP categories (High Impact Products) ensuring products are adapted and suitable for the local markets.
Take ownership of and champion the New Product Introduction process and personally lead the strategically important NPI Projects, such as the 'patented master keyed cylinder systems, 'residential multipoint locks' and 'smart digital door locks'.
Lead, develop and motivate Product management and R&D teams, focusing on set priorities, ensuring that the teams keep up to date with the latest market, product and technology developments and are at the fore front of understanding customer's needs.
Lead and motivate about twenty employees, from R&D Experts and Product Management, to technical service professionals.
Keep up to date and when possible influence the development of security standards, across the Benelux region using those standards for a beneficial and unique proposition.
Candidate profile
Bachelor or master degree in electronic or mechanical engineering or related field;
a minimum of 8+ years of Product Management experience working across complex product categories;
experience in leading commercial, operational and developing teams;
strong project management skills and clear evidence of meeting challenging targets and deadlines within a complex technology driven environment;
being able to communicate, motivate and influence at all levels;
willingness to travel across Benelux frequently and occasionally outside of it;
excellent Dutch and English language skills, French will be a plus.
The offer
Excellent working conditions
Interested?
You can apply to this position by using the link below. For more information please contact Saskia Lolkema, 0653335987.
Deze procedure is gesloten (07-05-2019).
Over deze headhunter - Luke Recruitment
In de wereld van Luke begint een succesvolle match met een inspirerende ontmoeting. Natuurlijk is bij een eerste ontmoeting die klik heel belangrijk. Maar bij Luke hebben we de ervaring om verder te kijken. We garanderen opdrachtgevers aan beter talent te helpen door onze eigenwijze methodische selectie. De consultants van Luke zijn thuis in verschillende specialistische bedrijfssectoren: Agri- & Food Business, Retail, Professional Services en Technologie&ICT.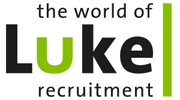 Meer vacatures van Luke Recruitment op Lintberg
Luke Recruitment is sinds 2018 aangesloten bij Lintberg.