Deze procedure is gesloten (04-10-2022).
Vakgebied

Management

Salaris

Salaris vertrouwelijk

Locatie

Amsterdam

Dienstverband

Permanent

Headhunter

Boyden for INREV
The organisation

INREV is the European Association for Investors in Non-Listed Real Estate Vehicles. They are Europe's leading platform for sharing knowledge on the non-listed (unlisted) real estate industry. Their goal is to improve transparency, professionalism and best practice across the sector, making the asset class more accessible and attractive to investors.
As a member-driven association, INREV is the go-to resource for the non-listed real estate investment industry. Their services include providing research and market information to members, defining and developing professional standards, sharing knowledge, and engaging in public affairs.
The INREV team is currently made up of 32 employees, with 29 in the Amsterdam office and 3 in the Brussels office. INREV top priority is to serve the interests of their members and the industry in general.
Vision: To champion the European non-listed real estate industry globally and build it as a competitive and sustainable asset class for institutional investors.
Mission: INREV works to further transparency and accessibility, promote professionalism and best practice, be the voice of the industry and spread knowledge.
What can INREV offer:
The platform for inspiration and innovation within the industry
Their members include 90 of the largest institutional investors, as well as 40 of the 50 largest real estate fund managers. What can they expect:

Industry-leading conferences, events and training programmes both online and on location;
A collaborative knowledge-sharing environment that improves understanding of the non-listed real estate industry;
Effective dialogue with policymakers and regulators on their members' behalf to ensure fair treatment of non-listed real estate in any regulation;
Alignment with other leading industry bodies globally, such as ANREV, PREA, and NCREIF;
Access to a pool of industry experts to learn from and engage with.

The leading independent source of market intelligence and industry insight

In-depth knowledge of the real estate investment industry – they gather information from primary sources and never use second-hand material;
Research programme – they are known in the industry for the quality and rigour of their research, analysis, data outputs and insight;
Bespoke tools for data gathering and analysis for real world application.

The pioneer of professional standards across the industry

Setting the standard for corporate governance, sustainability, accounting and reporting;
Creating and promoting the highest possible professional standards across the industry;
Hosting training and events programmes to encourage continuous professional development;
Developing specific tools, information and resources to help their members deliver stable long-term returns and manage change effectively.
The position
The main task for the new Head of Operations is the responsibility for INREV's dayto-day operational and administrative activities. Whether it's strategy implementation or stakeholder management, the Chief Operating Officer is more hands-on in the business, supporting the CEO.
Role objective & main duties
Supports the CEO in contributing to the business plan;
Ensures that all team members systematize the business to increase efficiency;
Ensures member services is facilitated to service the members optimally.
Culture and values of Inrev
Entrepreneurial: They are creative, innovative and resourceful and think beyond borders to get the job done;
Leaders: They strive to achieve the best, get things done and make a lasting difference for their community;
Family: They work together as a team and with their members in a professional and caring manner;
Inclusive: They take pride in being an oasis of diversity;
Passionate: They are proud of who they are, what they do and how they do it.
Reports: Data, Integration and Tech; Finance; HR;Office Support.
Reports to CEO of INREV.
Candidate Profile
Able to lead the growth agenda and the strategic roadmap;
A true team player, who can thrive in a small team;
Has a true hands-on mentality;
Has a passion for excellence and continuous improvement;
Takes ownership and is accountable;
His/her style is to empower people & teamwork;
Able to adapt easily in the team and business;
Good in engaging people with purpose & vision;
Has excellent cultural understanding;
Able to think out of the box (innovative);
Connects valuably with the CEO and the executive team of INREV;
Possesses a passion to help team members and clients/members;
Able to see the big picture and plan out details;
Direct and clear communications;
Reliable, follows through on commitments;
Strong process and planning orientation;
Goal-oriented, task driven, detail oriented;
Enjoys being part of the team, balances team needs with goals of practice;
Ability to delegate to the right team members.
Competencies
Able to set priorities perfectly;
Substantial management experience across a range of business disciplines;
Possesses requisite experience in HR, Financial Management, Technology and Operations;
Understands Legal contracts;
Strong human capital management knowledge;
Strong general IT infrastructure knowledge;
Information security, risk and compliance knowledge;
Understands and appreciates a member biased organization;
Fluent in English, both verbal and written.
The offer
Why join INREV:
The challenge to guide INREV in its growth;
Become part of a leading European association that is representing, promoting and shaping a fast-paced and growing industry;
Being part of a very successful and blossoming company with an extremely knowledgeable, multicultural and dedicated team;
An attractive remuneration package is part of the position.
Interested?
You can apply to this position by using the form below.
Interview procedure:
Interview with Boyden
With mutual agreement, presentation to INREV
Interviews with INREV
Reference check
Deze procedure is gesloten (04-10-2022).
Over deze headhunter - Boyden
Boyden is recognized as one of world's premiere leadership solutions and talent advisory firms. We work with globally-oriented, growth, and emerging organisations providing executive search, interim management, and leadership consulting services, committed to collaborating with clients to discover the right leadership solutions that enable them to meet their business objectives. The Right Leadership. Worldwise.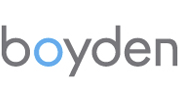 Meer vacatures van Boyden op Lintberg
Boyden is sinds 2017 aangesloten bij Lintberg.