Global Managing Director Medical Devices 
Deze procedure is gesloten (03-10-2022).
Vakgebied

Management

Salaris

Salary undisclosed

Locatie

Maastricht

Dienstverband

Permanent

Headhunter

VITRU | International Executive Recruitment for Neurosign/Technomed
The organisation
Neurosign/Technomed is a global medical device company, owned by a US private-equity firm.
Technomed: A fast-growing leader in medical accessories focused on monitoring electrical signals. Technomed sells branded products, private-labeled products, and OEM solutions.
Neurosign: One of the market leaders and renowned in the world for its range of Intra-operative Nerve Monitors. We also produce probes and electrodes which are used in Thyroidectomy, Mastoidectomy, Parotidectomy, Spinal Nerve Root and Skull-base surgeries. The products are highly competitive and among the best in the market.
We are a down-to-earth, results' driven Medical Device organization with short lines of communication and quick decision making. We have an ambition and passion to become a strong leader in the neuromonitoring field, and want to realize this with through inspired people and breakthrough innovations.
The Technomed/Neurosign business is operating increasingly independently from its sister division Magstim/EGI. A dynamic organization in full expansion, internationally oriented and with an absolute drive to maintain the energy and atmosphere of a small organization. We value a hands-on approach and allow you to excel, develop, create and implement your own expertise that can be converted to the best results. We support our employees to further develop their competencies and interests.
The position
Your role as Global Managing Director:
The Global Managing Director will develop and execute the commercial and operational strategy of the rapidly growing $23M Technomed and Neurosign businesses and will report directly to the company Board of Directors. You will have global P&L responsibility and drive annual revenue growth exceeding the current approximately 20% per year while simultaneously increasing margins and EBITDA.
The business is headquartered in Maastricht (NL); Marketing and Sales are located there, as well as in the UK and in Minneapolis, USA. R&D and operations are located in Maastricht with major manufacturing for accessories in Bandung (Indonesia) and for capital equipment in Whitland (Wales, UK).
The Maastricht office serves as the operational headquarters from which all roles are managed. You will have passion to build shareholder value positioning this Private Equity owned business to be a highly valued enterprise.
The ideal candidate will be an experienced global medical device leader with a proven track record of commercializing medical devices as well as expanding into new global markets, especially the US. You will drive innovation both through R&D and strategic acquisitions. Experience in intraoperative nerve monitoring, neurophysiology and/or ENT is advantageous.
We are looking for an executive leader with a track record of explosive sales growth and a passion for building high-performing teams, who enjoys developing and mentoring employees at all levels. You are able to translate the company's mission and strategy into actionable goals and drive your team (± 55FTE) to execute these mission-critical tactics. You are someone who embraces our values of respect; integrity; accountability and commitment; and collaboration & leadership.
Tasks & responsibilities
Full global P&L responsibility;
Develop and execute strategic plan for medical disposables and medical capital products;
Define and realize quarterly/ annual sales targets;
Develop a commercial strategy, including geographic expansion, deepening of existing OEM and creation of new relationships as well as entering new products/markets, resulting in accelerating growth;
Defining, planning and communicating the Sales & Marketing strategy and budget for direct sales markets and distributor markets as well as contract manufacturing markets;
Define product road map;
Develop and launch new products both disposables and capital equipment;
Manage operations with a focus on continuous improvement, quality, and regulatory compliance;
Identify new technologies for purchase or license agreements;
Identify co-marketing opportunities;
Continually manage the development of the sales force, new accounts/sales opportunities and partners (distributors, agents);
Prepare Business Reviews and board presentations;
Identify and engage with potential exit partners.
Candidate profile 
8+ Years of commercial experience in medical devices, ideally in intraoperative nerve monitoring and/or neurophysiology, and/or ENT;
MBA or equivalent business training;
Multiple years of executive management experience;
Proven experience or affinity with broad P&L responsibility;
Experienced building and managing a direct sales force, international distributors and private label customers;
Operations' leadership responsibility;
Experience in a USA market, team or setting is a plus;
Track record of innovation and new product introduction;
Upstream and downstream marketing experience;
Self-starter who demonstrates initiative, energy, and enthusiasm; brings a positive, can-do approach to all challenges;
Broad cultural orientation, with experience of working in an international context;
Experienced in partnering with medical, regulatory, and clinical development;
Exposure to Mergers and Acquisition;
Able to commute or live close to the office in Maastricht Airport.
The offer
Neurosign/Technomed offers you a challenging position with future career prospects in a fast-growing international company. We offer a very competitive remuneration package which consists of salary, benefits, and an outcome-driven bonus scheme tied to equity value.
Interested?
If you are interested and you meet all the above requirements please send your English resume via the link below to VITRU, The European Executive Recruitment Firm. For more information about this position, please contact Guy Laeven at VITRU via +31 6 19 79 80 68 (www.vitru-hr.com).
VITRU | International Executive Recruitment is exclusively assisting Technomed/ Neurosign to recruit the best candidate for this crucial role.
Deze procedure is gesloten (03-10-2022).
Over deze headhunter - VITRU | International Executive Recruitment
VITRU International Executive Recruitment helpt organisaties het beste executive talent te vinden. Met onze expertise in internationaal, zakelijk en commercieel executive recruitment zijn wij uw eerste keuze als het gaat om wervingsdiensten. Wij werven kandidaten op managementniveau voor verschillende industrieën en vakgebieden. Wij combineren onze kennis en ervaring om u in een efficiënt recruitmentproces te voorzien van geschikte kandidaten.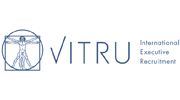 Meer vacatures van VITRU | International Executive Recruitment op Lintberg
VITRU | International Executive Recruitment is sinds 2018 aangesloten bij Lintberg.