Director of Global Customer Support
Deze procedure is gesloten (03-01-2022).
Vakgebied

Management

Salaris

Salary undisclosed

Locatie

Venlo

Dienstverband

Permanent

Headhunter

Vaes & Linthorst Management Matching for IHI Hauzer Techno Coatings
The organisation
Hauzer Techno Coating is an international high-tech organization, with over 210 employees and branches in Venlo, Barcelona, Yokohama, Shanghai and Olten. At the home base in Venlo, they develop and assemble plasma coating systems with vacuum, sputtering and arc evaporation technology, that find their way around the globe, to customers with notable names. At this mediumsized company, lines are still short and you can make a difference. Hauzer was founded in 1983 and became part of the Japanese IHI Group in 2008. The IHI Group is a group of more than 210 companies totalling up to 29,000 employees.
The position
In this new role you will define and execute a global Customer Support strategy for the Hauzer Group. You will organize, set up and manage CS into a globally aligned service organization for Hauzer Venlo, Shanghai and Yokohama & Bernex Olten. You will create synergy with other IHI Group companies.
You will be ultimately responsible for our CS activities such as breakdown support, troubleshooting, planned support and sales of spare parts, services and maintenance contracts. You will identify objectives, strategies and action plans to improve short- and longterm support services, sales and earnings. You will be P&L responsible for global CS.
Topics you will work on among others will be spare parts sales strategy , Customer portal, service & maintenance strategies and global warehouse & stock management. As representative of Hauzer you will also join network events, technical conferences and trade shows.
You will report directly to the Hauzer Group CEO and you will be part of the management team. You will directly manage the Managers CS of Hauzer Venlo & Bernex Olten.
Candidate profile
A technical or business master degree or higher;
At least 5 years of experience in setting up/managing a global CS or technical sales organization;
Experience in selling PVD/CVD equipment or another high-tech high value capital investment product;
A strong customer focused approach;
A positive role model and good communicator;
A creative networker and people manager;
Excellent command of the English language;
Willingness to travel worldwide when needed (30–40%).
The offer
Apart from good primary and secondary conditions, Hauzer offers an environment with room for personal development and initiative while working in an enthusiastic and dedicated team of colleagues who strive for quality and innovation.
Interested?
You can apply to this position by using the link below.
Deze procedure is gesloten (03-01-2022).
Over deze headhunter - Vaes & Linthorst Management Matching
Vaes & Linthorst heeft het doel om als partner door middel van het detacheren, werving en selectie,en het uitvoeren van Headhunt / Executive Search opdrachten, een belangrijke bijdrage te leveren aan het succes van zowel opdrachtgevers als kandidaten.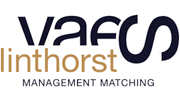 Meer vacatures van Vaes & Linthorst Management Matching op Lintberg
Vaes & Linthorst Management Matching is sinds 2010 aangesloten bij Lintberg.