Commercial Managing Director
Deze procedure is gesloten (01-11-2022).
Vakgebied

Management

Salaris

Salary undisclosed

Locatie

Zutphen

Dienstverband

Permanent

Headhunter

Van de Groep & Olsthoorn for Stemmer Imaging
The organisation
Our client is Stemmer Imaging BV, part of Stemmer Imaging AG in Germany. Stemmer Imaging is the leading company in machine vision systems in Europe, Latin America and Asia. Stemmer Imaging has a revenue of 130 M€, 333 employees, and is part of Primepulse.
Stemmer Imaging BV is market leader in the Benelux region, is well established and serves its customers with high market and technology expertise. The company is growing, even during the corona period.
Examples of application are the sorting of fruit, checking of food products for imperfections, medicine checks, semiconductor inspection, and all kinds of other applications where high speed and high quality images are needed. The clients vary from large international companies, to OEMs, system integrators, machine builders and start-ups. Newest applications are e.g. the famous VAR at football, traffic control, augmented reality, gaming, and online streaming of sports games of your own club. The possibilities are huge.
Stemmer Imaging provides the hardware as well as the software, in cases specifically developed for the client. The company is a trusted advisor and service provider, positioned to deliver tailor made solutions.
For the Benelux organization, we are looking for a Commercial Managing Director.
The position
The Benelux organization consists of about 12 people, in management, sales and sales support and technical support, that will grow to about 17-20 people in the coming years. As Commercial MD you are P&L responsible, reporting to the CEO in Puchheim, Germany. With your team, you are representing Stemmer Imaging in the Netherlands, Belgium (also the French speaking part) and Luxemburg.
Since the application possibilities are endless, SI has worked out a growth strategy and has put tools and metodologies in place to execute this strategy. This leaves it to you to apply modern management tools to identify the PMC's that are most attractive for you and your team to develop. Based on a dedicated sales approach you develop and implement methodologies to develop these markets and clients and formulate action plans, driving the distribution business model whilst continuously developing the Value Added model. You are also helping the sales manager, key account managers and other sales people where needed, hands-on; you will be visiting clients for about 30% of your times. More than technical knowledge, it is important to understand the possibilities of the application for the (potential) client.
Next to this commercial aspect of the position, you are the Managing Director of the company, responsible for all the perhaps little, yet important aspects of daily management of a company. This varies from reporting financially to the group, to managing insurances and pensions for the company, recruiting people, correctly reacting in case of sickness according to the Wet Poortwachter, managing escalating problems and legal issues. Also, professionalization and digitalization are focus points.
You are reporting to the Stemmer Imaging AG management team about financial and non-financial targets, operations and business goals. You are building trusting relationships with internal and external stakeholders.
Stemmer Imaging has offices in Zutphen and Barendrecht, but (partially) working from home is also possible.
Candidate profile
Candidates should have a Bachelor- or Master degree in a relevant technical field with commercial experience, or in commerce/finance with interest and experience in a technical driven company. You are an experienced Business Unit Manager, Commercial Manager or MD. Industry background in machine vision is not necessary, but you do have a background in e.g. automation, machinery sensors or other related fields. You have knowledge of financial administration, reporting, marketing, HR and IT.
As a person, you are an entrepreneur, a commercial person that makes things happen, looking actively for additional business. You are inspiring, motivating, assertive and energetic. A team player and people manager.
You command of Dutch and English is excellent, you have experience in reporting internationally and working with other cultures.
Interested?
You are invited to apply for this position by following the link below. For more information, please contact Bauke Wolters at +31 (0)346 87 00 20.
Deze procedure is gesloten (01-11-2022).
Over deze headhunter - Van de Groep & Olsthoorn
Van de Groep & Olsthoorn zoekt én vindt al sinds 1979 de juiste directeuren, managers en C-level-kandidaten voor posities in de sectoren techniek en industrie. Zowel voor vaste als interim aanstellingen, nationaal en internationaal.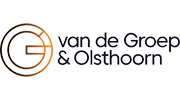 Meer vacatures van Van de Groep & Olsthoorn op Lintberg
Van de Groep & Olsthoorn is sinds 2012 aangesloten bij Lintberg.