Senior Solution Engineer DACH
Deze procedure is gesloten (26-03-2023).
Vakgebied

Sales

Salaris

€ 140.000 OTE

Locatie

Berlin

Dienstverband

Permanent

Headhunter

Nobel Recruitment
The organisation
Have a real passion for working with complex solutions, with top-tier clients? Want full ownership of your work and sales cycles? This bombshell of a company is what you're looking for.
About the Company
Having existed for more than 20 years, this international powerhouse has taken the Event-Driven Architecture industry by storm, with their solution that optimizes the efficiency and ease of creating and managing event-driven microservices! While they are pre-IPO, unlike other typical SaaS businesses, they do NOT rely on funding – they simply don't need it!
Are you looking to work in only one specific industry? Well then click away as this opportunity isn't for you. While they have been very prevalent in the financial sector historically, they have since expanded across different industries, such as retail, CPG and pharma! You can expect to work with only the top players of each vertical and industry, with companies like IKEA, H&M, Lidl and Novartis being a part of their clientele!
You will be joining an ambitious team that love working where they're at – with 0 turnover in the past 4 years, that certainly shows! Collaboration is key; have a great idea? Speak with the CEO directly and see how you can implement it!
The position
As the Solutions Engineer, you will take full ownership of the pre-sales cycle, being able to showcase your commercial and technical prowess in performing technical discovery sessions, creating and presenting demos and technical presentations, and being the subject matter expert and technical voice of the sales cycle. While your focus is on the pre-sales cycle, having built up the technical relationship with your clients, you will get to upkeep your network through facilitating the post-sales relationship with the professional services teams, while still being the main point of contact for your valued client!
Due to the transformational nature of the solution, and the fact that you will be working with huge enterprises, you will get to flaunt your professionalism and ability to manage complex sales cycles, with sales cycles ranging anywhere from 6 – 18 months! Fear not however, as you won't be doing this alone! You will be working in a dynamic duo with your Account Executive pair, and together, you will be your very own decision makers in a fully autonomous (but yet collaborative) environment, where you will be able to take full responsibility and ownership of your processes!
Candidate profile
5+ years pre-sales experience in SaaS
High fluency in German (written and spoken)
A real passion for technology. Experience with middleware and/or asynchronous development and communication would be huge plusses!
The offer
Highly competitive compensation package (OTE of 140k+, with an 80/20 split)
Great company perks (Car allowance, health insurance)
A clear career growth path and development plan
Feel truly empowered with being in charge and taking full ownership of your processes (absolutely no micromanagement!)
Interested?
You can apply to this position by using the link below.
Deze procedure is gesloten (26-03-2023).
Over deze headhunter - Nobel Recruitment
At Nobel our job is to help you find that perfect, next step in your career. We have experience on the inside and as the only Dutch agency focussing on SaaS, we're happy to connect you with one of the many befriended companies in our network.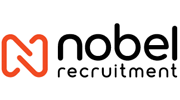 Meer vacatures van Nobel Recruitment op Lintberg
Nobel Recruitment is sinds 2017 aangesloten bij Lintberg.