(Senior) Business Developer
Deze procedure is gesloten (02-05-2023).
Vakgebied

Sales

Salaris

Salary undisclosed

Locatie

Netherlands

Dienstverband

Permanent

Headhunter

QTC Recruitment
The organisation
For a biotechnology company we are looking for a (Senior) Business Developer. They license commercially validated premium technology for improved production of biologics to CDMOs and to pharma and biotech companies developing proprietary products or biosimilars. They have entered the gene and cell therapy space and provide technology for improved viral vector performance. They are active globally and have an international client base.
The position
This is how you will make the difference
As (Senior) Business Developer you will drive and support further international expansion in North America, Europe and (selected) Asian markets. This means you will: expand your client base: identify and qualify new prospects (through conferences/meetings/events, use of candidate's existing network, etc.), develop a pipeline of technology evaluation and (ultimately) commercial licensing opportunities and negotiate and close evaluation/R&D- and commercial licensing deal. Next to this, you will: support drafting, reviewing and negotiating licensing agreements, manage and retain client relationships, and maintain a good understanding of the organisation's value proposition and competitive position in the industry, specifically in relation to the manufacturing of biologics. You will also work with the R&D team members to ensure that clients' requirements are met, follow industry trends, including competitor analyses and contribute to and management of CRM system and to business growth strategies and plans.
Candidate profile
The ideal candidate combines a scientific background with proven experience in a technical marketing/sales/business development position. You will be located/report in Leiden and will (initially) report to the Vice President Business Development. Next to this, you are of have:
At least 5 years experience / track record in technical business development, marketing or sales;
Well networked in Pharma/biotech/CDMO/Service provider industry;
Master's degree in biology, biochemistry, medicine or related field (molecular biology, molecular genetics, protein sciences, bio(process) technology, etc);
Sufficient technical/scientific background to understand the organisation's technology platform and value proposition;
Strong communication and organizational skills, with emphasis on setting goals and priorities;
Success-driven, energetic personality; ability to build client reports, pursue leads and close deals;
Ability to perform with guidance 'at a distance', self-motivated and be proactive;
Proficiency in MS Office and CRM software and fluent in English.
Interested?
You can apply to this position by using the link below.
Deze procedure is gesloten (02-05-2023).
Over deze headhunter - QTC Recruitment
QTC Recruitment is a reliable recruitment partner, specialising in search and selection of professionals in the life sciences industry. We provide tailored services all over Europe, offering a search proposal to find specialised candidates for demanding positions in a competitive labour market. Through decades of experience in life sciences recruitment, we have developed an extensive network of leading employers and specialists in Europe. Our goal is to make both clients and candidates happy with a new job opportunity or a matching specialist through our reliable, transparent, and personal way of doing business. QTC is all about making a difference for you on Quality, Time, and Cost.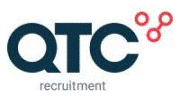 Meer vacatures van QTC Recruitment op Lintberg
QTC Recruitment is sinds 2015 aangesloten bij Lintberg.