Deze procedure is gesloten (06-07-2022).
Vakgebied

Sales

Salaris

€ 100.000 - 160.000 OTE

Locatie

Berlin

Dienstverband

Permanent

Headhunter

Search X Recruitment
The organisation
Imagine working with a collective pace of innovation that might be world-changing. This open adoption software company is on its way to becoming the global leader in online community software. This is where you come in.
With its specialization in online community and membership management solutions, this company has won several international awards. If you would not be able to share your questions, knowledge, achievements or goals, your work would not be as easy. Luckily, they managed to create a SaaS platform in which you are able to do all of this and even more.
The position
As their account executive you play a key role in the sales team, where you'll work closely with the SDR and MDR. Demonstrating the company to prospects and liaising with IT, Communications and Legal teams are part of your job in order to close the deal and start the onboarding. The Tech Sales Engineer is there for you when it becomes very technical, but you'll still be responsible for running your own show.
Candidate profile
I like that! But can I do it?
Of course you can do this! If you have a (technical) background in Software-as-a-Service you will be up and running within 2 weeks. Since you will be selling a SaaS product, it can take up to a few months or sometimes even a year to seal the deal. But with your stamina, positive energy, and ability to close this won't be a problem. It would be great if you have any experience with Pipedrive or similar CRM tools, but if not, that won't be a problem.
The offer
This is not a company that's shy of paying well. Including bonuses and pension, the salary starts at €100.000 and could go up to a whopping €160.000. They have two offices, one in the East and one in the West of the Netherlands. Due to Covid19, working remotely is the norm at this moment. However, they do offer a work-from-home allowance to make up for you. They also do fun (digital) activities, such as games and having drinks together.
Interested?
You can apply to this position by using the link below.
Deze procedure is gesloten (06-07-2022).
Over deze headhunter - Search X Recruitment
Wij zijn Search X. Een recruitment agency, gespecialiseerd in het bemiddelen van IT, Sales en Marketing professionals voor vaste vacatures en freelance opdrachten. Van Junior tot Executive level en van Start-up tot Multinational, maar altijd met het uitgangspunt: Kwaliteit boven kwantiteit, eerlijk en oprecht.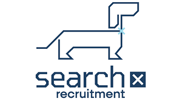 Meer vacatures van Search X Recruitment op Lintberg
Search X Recruitment is sinds 2020 aangesloten bij Lintberg.