Deze procedure is gesloten (03-10-2022).
Vakgebied

Sales

Salaris

Salary undisclosed

Locatie

Breda

Dienstverband

Permanent

Headhunter

Quaestus Executive Leadership voor Driscoll's
The organization
Driscoll's has been growing berries for over 100 years and operates worldwide. Driscoll's was established in California and is a family-owned company in the scale-up phase.
The position
Driscoll's is looking for a no-nonsense, energetic, and collaborative Sales leader with strong communication skills, who is a real team player. Driscoll's operates in a highly dynamic environment in which many aspects drive the company's success.
Tasks & responsibilities
The Sales Director will be responsible for Driscoll's growth in EMEA. As a member of the Commercial Leadership Team, you will lead and deliver the strategy by working closely with the functional leaders of the Supply chain, Operations, Finance, and Human Resources departments. You are responsible for a sales team of approximately fifty people and will report to the Commercial Director of Driscoll's EMEA.
Candidate profile
University master degree in commercial or economic direction
Minimum of 10 years of international sales management experience in fresh products or retail (with retailers across EMEA)
Experience in Category management and or Supply Chain (Finance is a pre)Extensive Strong sales and relationship management experience with retailers across EMEA
You know how to develop an international sales strategy and Joint Business Plans and translate this to the teams
Experience in working with a brand
Well-developed strategic acumen
Excellent English verbal and written skills (plus good command of French, Spanish or German is desired)
Business and finance acumen with analytical skills to drive people efficiencies, topline P&L and customer P&L's
No-nonsense, energetic, and collaborative leadership with strong communication skills, a team player
Strong people manager with a focus on change/transformation management and the ability to drive engagement and empowerment
Interested?
You can apply to this position by using the link below.
Deze procedure is gesloten (03-10-2022).
Over deze headhunter - Quaestus Leadership Innovators
Quaestus is gespecialiseerd in Executive Leadership en heeft een breed aanbod van diensten in Consulting, Executive Search en Leadership Development. Onze missie is het ontwikkelen van een Secure Base bij Raden van Bestuur en directie- en managementteams, met als doel het stimuleren van innovatie en exponentiële groei.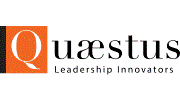 Meer vacatures van Quaestus Leadership Innovators op Lintberg
Quaestus Leadership Innovators is sinds 2008 aangesloten bij Lintberg.