Regional Sales Consultant North & Central Europe
Deze procedure is gesloten (22-11-2017).
Vakgebied

Sales

Salaris

Salary undisclosed

Locatie

Netherlands (home-office)

Dienstverband

Permanent

Headhunter

Boyden
The organisation
Our client is a recognized manufacturer of premium foodservice equipment based in the US. They work with global accounts in the (fast) food industry, but also with major local quick-service/casual dining restaurants in each market.
The position
We are looking for an experienced Regional Sales Consultant, who is self-motivated and willing to travel throughout his/her region of responsibility (average of 40% of the time).
The Consultant will have responsibility for the management of a network of distributors, will work with an existing restaurant chain customer base and will be instrumental in growing the business (new customers).
The new team member will report to the Director of Sales EMEA and needs to be based in a country (home office) in one of the countries which are part of the region covered preferably a capital with good flight connections.
Tasks & responsibilities
Management of distributors throughout the region of 15 countries (Germany, NL, Scandinavia, Eastern Europe, Russia, Baltics):

Help distributors in the development and implementation of a sales plan to achieve sales targets within their assigned territory
Identify opportunities for selling to new market segments and customers
Help implement proper sales techniques such as 'economic justification' and 'concept selling'
Make sure that distributors are knowledgeable in the proper operation and know all the benefits of the client's products
Conduct hands-on training session with sales people
Conduct demonstrations with key customers on how to operate the equipment on site or at EMEA office in Paris
When needed, assist the Technical Support group to ensure distributors have adequate service and parts capability to properly support customers

Must have strong negotiating skills and be able to formulate a solid business plan
Key-account management of existing large restaurant chains and develop strategies to grow the business with new chain customers
Become the business manager for the region and develop strategies to grow business
Develop a working strategy with the Sales Director EMEA that aligns with the company's strategic goals and sales targets
Attend tradeshows as required, sometimes in other regions of the world
Communicate, as required by the Sales Director, summaries of key customer visits, market trends, and any significant activity that might impact the company's business.
Candidate profile
Key qualifications:
University degree with a business or marketing focus; Restaurant Management is a plus
At least 5 years' experience in sales management; experience within the foodservice industry is a plus, but not required
Proficient with Excel, Word, PowerPoint, and Outlook
Fluent in English and preferably two other European languages spoken in the region
Willingness to work as an independent contractor (no employee status) with existing residence- and work-permit as well as driver-license
Someone who is self-motivated, a team player, and has a desire to grow
Someone who is able to embrace change and persuade others to accept these changes
Strong documented business skills, outstanding communication abilities and able to effectively manage his/her time to the "A" priorities
Must have the ability to effectively manage territory expenses, travel arrangements, etc.
Experience with representing A-brands in price-competitive markets
Personality:
Someone who asks more questions than talks in customer-facing meetings. A person who shows a genuine interest to improve the customer's operation and bottom-line.
The Sales Consultant should not be shy to give trainings (sales and product) and to present to management-teams of customers
Somebody who prefers to interact intensely with one customer than superficially with a lot of customers.
We don't use a classic equipment sales approach, but a consultative sales approach which requires patience with longer sales-cycles, empathy with people at all levels and an interest to understand the customer's operations
Interested?
You are invited apply to this position by using the form below.
Application procedure:
Interview by Boyden Netherlands
With mutual agreement presentation to the company
Interviews with the company
Reference check
Deze procedure is gesloten (22-11-2017).
Over deze headhunter - Boyden
Boyden is recognized as one of world's premiere leadership solutions and talent advisory firms. We work with globally-oriented, growth, and emerging organisations providing executive search, interim management, and leadership consulting services, committed to collaborating with clients to discover the right leadership solutions that enable them to meet their business objectives. The Right Leadership. Worldwise.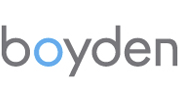 Meer vacatures van Boyden op Lintberg
Boyden is sinds 2017 aangesloten bij Lintberg.