Head of Sales – compliance solutions
Deze procedure is gesloten (28-07-2022).
Vakgebied

Sales

Salaris

€ 100.000

Locatie

Amsterdam

Dienstverband

Permanent

Headhunter

Nobel Recruitment
The organisation
This organisation offers a digital compliance solution that makes the lives of mid-market to enterprise companies easier. Their automated products are efficient and ensure they're always up-to-date and covered across their entire business. Working remote-first, their client base consists of over 900 companies in 15 countries. Clients such as KPMG, Husqvarna and Volvo rely on this solution on a daily basis to change their compliance efforts from complicated to simple and secure. They recently hired a new Managing Director and are now looking for an experienced Head of Sales to head up and grow the team consisting of 6 sales managers.
The position
As the new Head of Sales you will be responsible for setting the international sales strategy, managing the team as well as closing deals. You will constantly develop the commercial strategy and improve the sales process and in this you will work closely together with the Managing Director. You lead by example as you identify new growth opportunities, acquire new clients and close deals. Heading up the sales team, it will be your task to inspire, help and motivate the sales managers and to grow the team with new talent. Additionally, you constantly assess the market by identifying key trends, risks, issues and opportunities and will work on data analysis and tracking performance.
Tasks & responsibilities
Leading and constantly improving the international sales strategy and making sure the team is aligned on this
Lead by example as you will be involved in closing deals
Managing and growing the international sales team and tracking performance
Candidate profile
5 - 10 years of experience in sales in the compliance and ethics industry
A deep understanding of compliance service offerings and how this adds value to clients as well as a strong knowledge of the competitive market
You've managed people before and know how to discuss results and inspire and motivate members of a sales team
You have a proven track record in closing deals with mid-market and/or enterprise companies
Your experience is international as you've worked on deals and know how to adapt to various countries and cultures
The offer
You will step into an exciting growth journey, developing your skills in sales and management
The opportunity to lead an international sales team to even bigger success
A lot of freedom to come up with new strategies and ideas to improve sales performance
As this is a remote first role, you can work from anywhere in Europe
Interested?
You are invited to apply for this position by following the link below.
Deze procedure is gesloten (28-07-2022).
Over deze headhunter - Nobel Recruitment
At Nobel our job is to help you find that perfect, next step in your career. We have experience on the inside and as the only Dutch agency focussing on SaaS, we're happy to connect you with one of the many befriended companies in our network.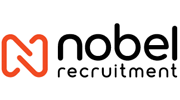 Meer vacatures van Nobel Recruitment op Lintberg
Nobel Recruitment is sinds 2017 aangesloten bij Lintberg.