Deze procedure is gesloten (09-07-2022).
Vakgebied

Sales

Salaris

Salary undisclosed

Locatie

Amsterdam

Dienstverband

Permanent

Headhunter

Top of Minds Executive Search for Greetz
The organisation
With millions of customers each year, Greetz has grown from a Dutch market leader in online greeting cards into thé online platform for personalized surprises such as flowers, balloons, photo gifts and cards. The company is part of Moonpig Group, founded over two decades ago and operational in the United Kingdom, United States, Australia, and The Netherlands. Its mission is to help people connect and create moments that matter, and to become the ultimate companion for personal gifting. In the most important milestone to date, in February last year, the Moonpig Group achieved 'Unicorn' status with one of the biggest tech IPOs of 2021, making the FTSE 250 index of leading companies listed on the London Stock Exchange with a market cap of £1.5 billion. The Group is looking to further internationalize, professionalize and cross-fertilize.
Greetz is in a very healthy position and seeks to continue its stellar growth. In a few years, the company is targeting 3-digit turnover figures. The company is based in Amsterdam and has a team of more than 160 professionals with a friendly, fun attitude and a sharp focus on delivering results.
"We use customer insights to offer strong personalization and convenience to our customers." – Ellen Ten Hove, Commercial Director
The position
Greetz, part of Moonpig Group, is a highly-successful online platform for personalized surprises. In 2021, Moonpig Group was listed on the LSE and achieved Unicorn status. The Head of E-Commerce manages the trading team and is responsible for the shop's commercial targets. This is an exciting opportunity for a hands-on digital professional with strong analytical skills to lead Greetz into its next phase of stellar growth.
Tasks & responsibilities
The new position of Head of E-Commerce is essential for Greetz's high growth ambitions which centers around further data-driven personalization and differentiation in range through its extensive insights in its customers. The Head of E-Commerce is end-responsible for the shop and for achieving commercial targets. By creating and leading the delivery of the merchandise & trading strategy, such as commercial forecasting, daily trading management, onsite assortment positioning, promotion planning and creation of the on-site content, the Head of E-Commerce will continuously strive to improve the Greetz sales and margin objectives. Working together with the different teams that contribute to these targets, the role is at a center of the organization and stakeholder management is key. The cards team selects the assortment; the design team manages in-house design, licensing, and publishers; the gifts team is responsible for buying and expanding the product lines. The Head of E-Commerce leads the trading team of 5 people.
In addition, the position is broadly defined around ecommerce and customer propositions and the Head of E-Commerce has the space to identify and take on new business opportunities and growth projects. An example is the question on completely new customer propositions on delivery that could be adopted, such as same day delivery.
"The Head of E-Commerce has the potential to achieve strong professional growth within the company" – Ellen Ten Hove, Commercial Director
Overall, the Head of E-Commerce is a leader and really operates as the number two of Greetz's Commercial Director. This is an exciting opportunity for an energetic digital professional to take a leadership position and to lead a highly successful company into its next growth phase.
Candidate profile*
Minimum 8 years of experience, including in digital or ecommerce
Strong stakeholder management and leadership skills
Strong analytical skills and a data-driven attitude
Former management consultant preferred
Fluent in English; Dutch preferred
* Research shows that while male candidates feel confident enough to apply when they meet about 60% of the requirements, female candidates only apply when they tick every box. So if this role has your name on it, but you're not sure about the criteria, we still want to hear from you.
Interested?
You can apply to this position by using the link below. Greetz is working with Top of Minds to fill this vacancy.
Deze procedure is gesloten (09-07-2022).
Over deze headhunter - Top of Minds
Top of Minds is een Executive Search bureau met een internationaal werkveld. Onze recruitment Consultants hebben allemaal een individuele focus, van FMCG en Retail tot e-Commerce en Digital. De succesfactor van Top of Minds is storytelling: great stories attract great people.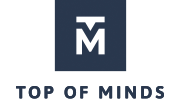 Meer vacatures van Top of Minds op Lintberg
Top of Minds is sinds 2011 aangesloten bij Lintberg.