Deze procedure is gesloten (06-11-2022).
Vakgebied

Sales

Salaris

€ 100.000 - 140.000

Locatie

Amsterdam

Dienstverband

Permanent

Headhunter

Search X Recruitment
The organisation
Launder your money! That's one of the most important sentences in the criminal world. Because without laundering, drug money isn't worth anything. And that is what we, the normal people, want. Right?
What is this about?
During these enormous changes in the worldwide financial infrastructure, it's hard to fight money laundering. Financial crimes involving drugs, human trafficking and terrorism are still happening as we speak and it's getting harder and harder to track them. Because with all the current money flows, who can monitor what's drug money and what's not?
But with the help of artificial intelligence and machine learning, this company is able to detect criminals. They've had some great success with anti-money laundering software in the recent past, and are planning to do much more in the future. In that way, their clients, financial institutions, have lots of benefits and contribute to the fight against financial crime.
The position
Interesting… what can I do?
You will be de Director of Sales in this hugely growing business. They are ready to scale up, and they need you to extend the client base. Managing all steps within the sales process is on your plate, from lead generation to closing deals. You are the eyes and ears in the market, and ready to think big. A fun part about this job is representing the organization at selected industry events.
Candidate profile
Alright, and what should I bring?
Thanks to your over 5 years of experience in sales, the Director of Sales role is an ideal step for you. And also B2B consultative sales experience is on your resumé, which makes your chances even bigger. You've known the payments industry for a while now, and thanks to your curiosity about tech-involved products, this job is yours.
The offer
And what's in it for me?
You're in sales, so you know there's gonna be a bonus someday. But first, your salary, which is a solid base. A monthly paycheque up to €7000,- is nice, and on top of that, there is a potential bonus of 50% and stock options. You'll end up in an entrepreneurial environment where everybody learns from one another. The positive pressure you'll experience makes you get the best out of yourself and put the best in this job. Ready for the challenge? The Apply button isn't far away.
Interested?
You can apply to this position by using the link below.
Deze procedure is gesloten (06-11-2022).
Over deze headhunter - Search X Recruitment
Wij zijn Search X. Een recruitment agency, gespecialiseerd in het bemiddelen van IT, Sales en Marketing professionals voor vaste vacatures en freelance opdrachten. Van Junior tot Executive level en van Start-up tot Multinational, maar altijd met het uitgangspunt: Kwaliteit boven kwantiteit, eerlijk en oprecht.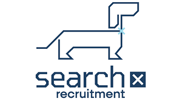 Meer vacatures van Search X Recruitment op Lintberg
Search X Recruitment is sinds 2020 aangesloten bij Lintberg.