Deze procedure is gesloten (07-06-2022).
Vakgebied

Sales

Salaris

Salaris vertrouwelijk

Locatie

Almelo/Home office

Dienstverband

Permanent

Headhunter

Luke Recruitment for IMS
The organization
IMS is a technical organization in heart and soul. Where IMS started as a mechanization club / special machine builder, it is now – after years of specialization in various micro applications and continuous investment in R&D – a company with a distinctive portfolio of technical expertise and (company-specific) technologies. Nowadays, the IMS multinational workforce consists of 120+ professionals with a passion for technology and a sincere commitment to making every project or product successful.
IMS develops and builds production lines for small, innovative products. Large international companies in the automotive, smart – and medical devices industry rely on IMS's unique in-depth and broad (20+ years) experience of various manufacturing technologies. As a result, IMS enjoys recognition in the industry for the best possible production lines: scalable in volume and capable for a high product mix.
Although IMS has been a stable and steadily growing organization for years, it currently finds itself in a phase of transition. This transition means a lot for the organization as a whole (e.g., market approach, ways of working, and operational/technical processes) and certainly also for the commercial organization; creating a compelling commercial vision, establishing an empowered sales organization, and thinking about ways to set up indirect sales channels (via agencies/distribution partners). Altogether, more than enough reasons to look for a Commercial Director who can and is willing to take on this challenge!
The position
The position of Commercial Director at IMS comes with broad responsibilities, and it is an adventurous and diverse challenge; developing a commercial vision with associated propositions, building and managing a network that is strategically relevant to IMS, and leading a small team in which he/she also realizes part of the sales (leading by example), all belong to the responsibilities of the Commercial Director. As a member of the leadership team, the Commercial Director is the one that brings the market and customer perspective to the table in strategic and tactical decision-making.
Candidate profile
IMS is looking for a Commercial Director who can create a compelling vision and who will position/shape the company and its future roadmap from a commercial and strategic business development perspective. A Director with commercial striking power, great in building and maintaining relationships with key market players, and skilled in closing deals and contracts at multiple levels. Furthermore, the Commercial Director feels at home in a dynamic and entrepreneurial environment. You will describe yourself as a hands-on strategist/commercial with excellent consultative selling skills.
Minimum of 12 years of experience in technical/commercial positions;
Experience with the technically complex nature of the high-tech manufacturing industry;
Proven commercial track record in a context with large, international (OEM) companies;
Demonstrable experience with (setting up) indirect sales channels;
Exemplary leadership skills, preferably backed by experience;
As a minimum, an educational degree at higher vocational education (HBO) level and can easily function at an academic level (analyzing, discussing, presenting);
Ability and willingness to travel internationally (≈20%);
Fluent in written and spoken English.
The offer
The role of Commercial Director within IMS is an attractive, commercially responsible position with an exciting and challenging assignment. The organization feels like a secure base, and its culture is pleasant and genuinely innovative.
Reward
Competitive base salary supplemented by variable remuneration and a choice of a lease car or mobility allowance.
Location
This is a full-time position at the head office of IMS in Almelo, Einsteinstraat 14-16. Partially working from home is an option.
Interested?
You can apply to this position by using the link below. For more information please contact Thomas van Gasteren, +31 (0)6 29 38 92 83.
Deze procedure is gesloten (07-06-2022).
Over deze headhunter - Luke Recruitment
In de wereld van Luke begint een succesvolle match met een inspirerende ontmoeting. Natuurlijk is bij een eerste ontmoeting die klik heel belangrijk. Maar bij Luke hebben we de ervaring om verder te kijken. We garanderen opdrachtgevers aan beter talent te helpen door onze eigenwijze methodische selectie. De consultants van Luke zijn thuis in verschillende specialistische bedrijfssectoren: Agri- & Food Business, Retail, Professional Services en Technologie&ICT.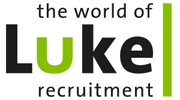 Meer vacatures van Luke Recruitment op Lintberg
Luke Recruitment is sinds 2018 aangesloten bij Lintberg.