Deze procedure is gesloten (23-12-2021).
Vakgebied

Sales

Salaris

Salary undisclosed

Locatie

Amsterdam

Dienstverband

Permanent

Headhunter

Top of Minds Executive Search for Fastned
The organisation
Fastned is a rapidly growing company with a strong purpose. The scale-up accelerates the transition to sustainable mobility by giving freedom to drivers of electric cars. They are building Europe's best fast-charging network: over a thousand large charging stations on prime locations, fully fueled by renewable energy (sun and wind), accessible for all electric vehicles, and delivering a high-quality experience to all users.
The organization is split into two teams. First, there is the Pipeline Team. They focus on developing new locations and constructing highly reliable charging stations on those sites. The Delivery Management Team operates the stations. They deliver the best customer experience and maximize revenues. In total, Fastned employs over 100 people of about 28 different nationalities. Together they work hard to change the world.
"Even though only one percent of cars in our markets are electric, we already generate positive operational EBITDA. Just imagine what happens when those percentages increase to ten percent. Or fifty percent. We are only just getting started." – Michiel Langezaal, CEO
In 2020, Fastned delivered a total of 11 GWh of renewable energy, amounting to 8.7 million kg of avoided CO2 emissions. At year-end the company operated 131 charging stations in six different countries: the Netherlands, Germany, the UK, Switzerland, Belgium, and France. Fastned is headquartered in Amsterdam and publicly listed on Amsterdam's Euronext exchange. The scale-up is expanding at a high pace, showcased for example by the over 150 sites Fastned acquired in 2020 as locations to develop new charging stations.
The position
Fastned develops and operates superfast charging stations throughout Europe and is expanding fast. The Commercial Director will further accelerate the scale-up's growth by driving commercial development in terms of e.g., brand, marketing, sales, and partnerships. A unique opportunity to expedite electric mobility and combat climate change.
Tasks & responsibilities
The Commercial Director will own the commercial strategy and drive the commercial development of Fastned across Europe. The role offers a broad range of responsibilities, ranging from brand, communications, and marketing to sales, pricing, and partnerships. They will become part of the Executive Team and be jointly responsible for the overall P&L of the company. The Commercial Director will be a member of the Delivery Management Team and have regular interactions with investors, e.g., during investor calls, annual meetings, and investor days. They will also be entitled to participate in Fastned's option scheme.
"We prefer a Commercial Director who thinks like a founder. An entrepreneurial and creative visionary who takes ownership and drives the business forward." – Michiel Langezaal, CEO
The Commercial Director will provide vision and leadership to speed up implementation and accelerate revenue growth across Europe. They will make use of Fastned's growing data capabilities to gain insights and optimize the commercial approach. Central challenges revolve around getting to know the (potential) customer and persuading them to frequent Fastned's charging stations to improve utilization. One focus area for the Commercial Director will be building a well-known and distinctive consumer brand. They will craft an inspiring brand story and leverage this to drive consumer preference. Another key topic for the Commercial Director will be building commercial partnerships throughout Europe with, e.g., car manufacturers, car leasing companies, and mobility service providers.
To be successful, the Commercial Director will need to be an experienced leader with strong interpersonal skills. They will build, lead, and develop the Commercial Team, which works across multiple countries and consists of a Lead Brand Team, Commercial Development, Corporate Communications, and Energy Planning & Purchasing. The Commercial Director will be responsible for scaling the team, taking on an active role in recruitment.
The role offers a unique opportunity to fulfill a key position in a fast-growing company that pioneers in a completely new industry and operates across Europe. It would be a great fit for an entrepreneurial, strategic, and highly driven professional looking to contribute to combating climate change and accelerating the transition towards electric mobility.
Candidate profile*
Over 10 years of experience in commercial roles
Able to build a successful brand
Leadership experience
Commercial mindset
Action oriented
Passionate to contribute to the energy transition
* Research shows that while male candidates feel confident enough to apply when they meet about 60% of the requirements, female candidates only apply when they tick every box. So if this role has your name on it, but you're not sure about the criteria, we still want to hear from you.
Interested?
You can apply to this position by using the link below. Fastned works with Top of Minds to fill this vacancy.
Deze procedure is gesloten (23-12-2021).
Over deze headhunter - Top of Minds
Top of Minds is een Executive Search bureau met een internationaal werkveld. Onze recruitment Consultants hebben allemaal een individuele focus, van FMCG en Retail tot e-Commerce en Digital. De succesfactor van Top of Minds is storytelling: great stories attract great people.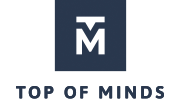 Meer vacatures van Top of Minds op Lintberg
Top of Minds is sinds 2011 aangesloten bij Lintberg.