Application/Business Development Manager (chemicals)
Deze procedure is gesloten (04-09-2018).
Vakgebied

Sales

Salaris

Salary undisclosed

Locatie

Netherlands

Dienstverband

Permanent

Headhunter

Ocean Recruitment
The organisation
Our client is a leading, global manufacturer of silicone release liners, used in a wide variety of applications, such as pressure sensitive adhesive and the composites industry. With in-depth technical expertise, state-of-the-art production technology and flexible service programs around the world, our client offers customised release liners for any specific application.
For one of our clients we are searching for a Application/Business Development Manager.
The position
The Application Development Manager has overall responsibility to support current business and develop new applications of existing and new products by teaching our customers why/how to use our products in various applications as well as troubleshoot and resolve any product related issues during production.
This position acts as a technical subject matter expert for the Composites Business in Europe, and is expected to stay abreast of changes and trends in the market to best serve the objectives of the organization. A successful candidate will have proven leadership skills and ability to manage projects through the utilization of internal resources. Flexible base location in the Netherlands or home office in a regional city (Europe) with a major airport.
Tasks & responsibilities
Establish long-term professional relationships with potential and existing customers and partners.
Provide service to customers to identify and address technical needs regarding new product applications and resolution of issues.
Accompany sales to visits at customer sites as technical liaison, responsible for product positioning and presenting program strategies.
Develop and use knowledge and interpersonal skills to support and guide others towards the accomplishment of goals and objectives.
Support marketing and sales operational and budget objectives by communicating customer insights, identifying opportunities with customers, and recommending new market applications and/or product development to generate new business.
Provide input and make recommendations during the negotiations of sales proposals and development of contracts in partnership with sales and marketing.
Analyze data, prepare presentations and issue reports with clearly stated results, recommendations, and project status.
Communicate extended product knowledge in Composites markets and technologies.
Candidate profile
You are eager to build (new) relationships in order to extend your business in the matrix of new and existing products at new and existing customers / applications. Furthermore:
Minimum of a Bachelor's degree in Chemistry, Engineering or related technical discipline
A minimum of five years of experience in a product development role required
Technical experience within the Composites market preferred
Proven track record of the ability to initiate, plan and execute technical projects
Ability to lead and collaborate with cross-functional teams
Excellent interpersonal and communication skills and the ability to use these to effectively identify and resolve issues with both internal and external customers
Fluency in English is required
Highly skilled in the use of computers, including Word, Excel, PowerPoint and Outlook; experience working in Minitab preferred
Must be self-motivated and have good analytical and trouble-shooting skills
Must possess the ability to think Global and thrive in a fast-paced environment
Willingness to travel extensively (domestic and international)
The offer
You will be working for the leading, global producer in the release liner business, who provides a challenging and rewarding work environment. You will work in a multi-cultural, open and technologically advanced environment. Our client offers educational opportunities, an outstanding standard package and benefits.
Interested?
You can apply for this position by using the link below. For more information you can contact Rogier Duijndam at +31 (0)71 523 46 03 (office) or +31 (0)6 19 58 66 46 (mobile).
Deze procedure is gesloten (04-09-2018).
Over deze headhunter - Ocean Recruitment
Ocean Recruitment is a professional recruitment company specialized in the chemical and raw materials industry. We have clients around the world.
Our role in chemical job recruitment is to be a professional intermediate. Always searching for qualified candidates. Either to propose a specific present job search or for future opportunities.
Within the chemical industry we focus on the following function groups: General Management, Procurement & Supply Chain, Research & Development (R&D), Sales & Marketing, Safety, Health, Environment & Quality (SHEQ).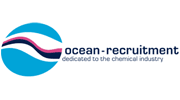 Meer vacatures van Ocean Recruitment op Lintberg
Ocean Recruitment is sinds 2015 aangesloten bij Lintberg.