Deze procedure is gesloten (17-10-2021).
Vakgebied

Sales

Salaris

€ 180.000 OTE

Locatie

Amsterdam

Dienstverband

Permanent

Headhunter

Nobel Recruitment
The organisation
When you're a small company, you have few processes and loads is still doable to manage ad hoc. When a company gets more mature, as a business, you have more processes to manage (for example new departments and new applications). This companies' solution helps modern IT businesses to integrate and automate apps in the ERP back-end.
Like many Silicon Valley companies, they have been backed by investors who see great potential. Currently countring 350+ FTE with most employees stationed in the US, they are now looking to conquer EMEA. Their goal is to hire 150 people this year!
The position
As the first German speaking Account Executive you will be responsible for growth in the DACH region. They already had a English speaking rep focusing on this region and was able to tripple growth within 1,5 years (imagine what the growth would be if this person actually spoke German). Majority of the leads are inbound, however you are expected to build an outbound strategy as well that works best for the DACH region. Ideally you are familiar in the IPaaS space and have a solid understanding of integration around ERP.
You are a consultative seller that knows how to close deals of €50K and above to C-Level's and IT stakeholders. The company is going through a rapid growth, which means that you will have BDR(s) that will assist you with proper leads. You will also work closely with partners and help deliver integration solutions.
The company is doing extremely well in the current economic climate as they are solving a really tough problem that affects almost every business worldwide. Prove yourself as a great country lead and you will be have the opportunity to grow into a management role in EMEA!
Candidate profile
Consultative salesperson with track record of closing B2B deals
Strong negotiation skills selling into C-Level stakeholders
Fluent in German and English
Understanding of IPaaS / ERP is a big plus
Terms & conditions
Salary up to €180K OTE
Pension
Healthcare
Growth opportunities into a management role
Be part of a fast-growing scale-up and make a huge impact in EMEA
Interested?
You are invited to apply for this position by following the link below. For more information, please contact Felix Bake at +31 (0)6 30 38 52 84.
Deze procedure is gesloten (17-10-2021).
Over deze headhunter - Nobel Recruitment
At Nobel our job is to help you find that perfect, next step in your career. We have experience on the inside and as the only Dutch agency focussing on SaaS, we're happy to connect you with one of the many befriended companies in our network.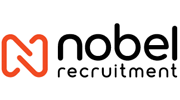 Meer vacatures van Nobel Recruitment op Lintberg
Nobel Recruitment is sinds 2017 aangesloten bij Lintberg.