Marketing Director Dental EMEA
Deze procedure is gesloten (15-05-2018).
Vakgebied

Marketing

Salaris

salary undisclosed

Locatie

Barcelona

Dienstverband

Permanent

Headhunter

VITRU | International Executive Recruitment for Zimmer Biomet Dental
The organisation
Zimmer Biomet Dental is one of the leading companies in the oral reconstruction market. It has the global headquarter in Palm Beach Gardens, Florida, and the global revenue in 2017 was close to $ 420 million. The EMEA headquarter is based in Barcelona, Spain.
Zimmer Biomet Dental is represented in around 40 countries in the EMEA region through at least 7 fully owned subsidiaries and its distribution partners and employs around 300 employees in the commercial organization.
Zimmer Biomet Dental offers one of the implant dentistry's most comprehensive lines of implants and abutments, augmented by a growing line of site preparation and regenerative products.
Zimmer Biomet Dental is a subsidiary of Zimmer Biomet Orthopaedics, a world-wide leader in the field of Orthopaedics, with more than 7 billion dollars in annual sales.
The position
This position is based in Barcelona, Spain and reports to the VP Dental EMEA. The marketing responsibility for this role reaches EMEA-wide for the complete Dental portfolio. The direct team consists of 4 marketing managers, 1 Education manager, 1 Marketing Communication and 1 Events manager. Furthermore, the ZB Institute for Customer Education, located in Switzerland, belongs to the department.
Ultimately your responsibility is leading and developing the EMEA Marketing team combined with defining, designing, implementing and executing the EMEA dental marketing strategy.
Tasks & responsibilities
Designing, planning and executing all marketing activities in EMEA for the dental portfolio
Ensure that the EMEA Marketing strategy is adapting the global product line strategies and its implementation at a country level
Providing the EMEA organization with International Courses and education concerning product knowledge, together with the EMEA and local marketing teams
Assisting in the deployment of champions and in training the leadership team and the trainers of the sales teams in the local countries
Developing together with EMEA marketing team, New Product launches by adapting launching materials; launching dates, promotions, pricing strategy & marketing materials and leading Train the Trainers activities;
Ensuring administrative support in pre-launch and limited launch activities in EMEA communicating with clinicians involved, making reports, collecting clinician's feedback and other duties as required
Ensuring a regular communication with counterparts within the global marketing team
Gets acquainted with "next generation" products and conducts scouting activities for new products and business opportunities, including market segments previously not served
Performing technical evaluation of new product proposals, and filters proposals from customers before sending them to the Global Product Committee
Identifying rationalization opportunities within redundant, overlapping or low profit solutions
Leveraging potential "dormant" products or identifying synergies within different technologies
Acting as the EMEA hub person evaluating new business opportunities across the different EMEA geographies
Planning and managing expenses to ensure expenditures do not exceed the budget
Ensure that all legal & compliance processes are fulfilled
Candidate profile
We are looking for a strategic marketing thinker with a "hands-on" mentality and excellent people management skills who can bring strategy into practice, is able to build a team and guide the marketing organisation to a higher level.
But if you really want to succeed in this role, you also need the following;
Multiple years' experience in a similar marketing role
Experience in the medical Device business is a must
Experience in the Dental business is a plus and experience in consumer marketing would come handy
Empathic and strong leadership skills
Educated in marketing would be required, an additional MBA is a plus
Ability to communicate fluently in English, other languages preferably Spanish, would be a plus
Ability to read, analyse/ interpret common scientific/technical journals and financial reports
Ability to effectively present information to top management and public groups
As this role is a very international oriented role, good feeling of cultural differences and knowing how to manage and discuss and co-operate with team-members, dentists and other stakeholders on a global base is an absolute must
Ability to travel, up to 50% for this role is required
This role is based in Barcelona, relocation would be required
The offer
We ask a lot, but also have an offer you can't refuse: Zimmer Biomet Dental offers you a challenging position with good career prospects in a fast-growing international company. We also offer a very competitive remuneration package, a bonus, a car, health insurance, lunch vouchers and if necessary a relocation package.
Interested?
If you are interested and you meet all the above requirements please send your English resume via the link below to VITRU, The European Executive Recruitment Firm. For more information about this position, please contact Guy Laeven at VITRU via +34 (0)627 523 628.
VITRU | International Executive Recruitment is exclusively assisting Zimmer Biomet Dental to recruit the best candidate for this crucial role.
Deze procedure is gesloten (15-05-2018).
Over deze headhunter - VITRU | International Executive Recruitment
VITRU International Executive Recruitment helpt organisaties het beste executive talent te vinden. Met onze expertise in internationaal, zakelijk en commercieel executive recruitment zijn wij uw eerste keuze als het gaat om wervingsdiensten. Wij werven kandidaten op managementniveau voor verschillende industrieën en vakgebieden. Wij combineren onze kennis en ervaring om u in een efficiënt recruitmentproces te voorzien van geschikte kandidaten.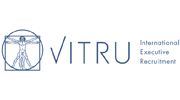 Meer vacatures van VITRU | International Executive Recruitment op Lintberg
VITRU | International Executive Recruitment is sinds 2018 aangesloten bij Lintberg.