Global Marketing Director
Deze procedure is gesloten (05-07-2021).
Vakgebied

Marketing

Salaris

Salary undisclosed

Locatie

Diemen

Dienstverband

Permanent

Headhunter

Top of Minds for Experis/Manpower Group
The organisation
ManpowerGroup is a global leader is staffing & recruiting services, serving large and small organizations across all industry sectors. The company was founded in 1948 and today has over 400.000 clients and 4.3 million associates in manpower. Experis is one of three ManpowerGroup business units and provides professional resourcing services globally with a strong focus on the IT industry. The business offers its services across 5 practice areas: Business Transformation, Cyber Security, Cloud & Infrastructure, Digital Workspace and Enterprise Applications.
Experis is a global brand and its strategies are also developed globally and subsequently rolled out into the markets. The business is currently boosting its organization by setting up leadership in the regions. In addition, it has identified several priority countries across Europe and North America as markets for potential growth.
"In order to meet our targets, we are working in a very data-driven way. We are also expanding our capabilities in marketing performance analytics."– April Dunn, Chief Marketing Officer
The position
Experis is ManpowerGroup's most-profitable business and focused on professional resourcing services in the IT sector. The Global Marketing Director Experis is responsible for marketing strategy and implementation, working at a global level as well as deep within the local markets. This is an excellent opportunity for a seasoned marketing professional ready to grow the Experis brand and business.
The Global Marketing Director Experis, Experis is responsible for leading the overall global strategy, coordination and alignment of the marketing planning and execution for the Experis brand. Experis is highly profitable and an increase in brand awareness and lead generation is top priority.
While this is a global role, there will be a strong focus on priority countries in Europe and North America. The Global Marketing Director Experis will ensure that the marketing strategy and positioning of the Experis brand is implemented in all priority markets, while enabling business teams to achieve double-digit growth in revenue and margin.
This role will entail several areas of responsibility. First, the Global Marketing Director Experis leads the global marketing strategy and manages all brand positioning, campaigns, messaging and co-marketing agreements. Here, global governance of the Experis brand and adherence to brand guidelines is essential. It also involves working together with regional and country teams to develop marketing programs and leveraging marketing analytics to assess performance and improve tactics.
Second, the goal is to position Experis as domain expert in the IT industry. This means monitoring trends and being able to propose innovative growth ideas and new product offerings. It is therefore important to build and expand relationships with IT industry analysts. Also, together with Strategic Communication, the Global Marketing Director Experis develops Thought Leadership research and publications to enhance Experis positioning. Therefore, strong understanding of IT is essential.
Third, the Global Marketing Director Experis works with the Global Market Intelligence team and the country teams to coordinate the annual market research and to drive strategic insights and potential new opportunities. Monitoring competitive behavior and adapting marketing accordingly is also key.
The position reports directly to ManpowerGroup's Chief Marketing Officer in Wisconsin, USA, while also taking part in the European leadership team. In addition, this role works closely alongside marketing leaders in the countries and regions, who drive execution of local marketing plans.
"This position is really exciting; it is focused on global marketing, yet at the same time deeply connected with local markets and marketing teams!" – April Dunn, Chief Marketing Officer
The position is based out of Amsterdam, The Netherlands. Working from another European location can be discussed. This is an exciting opportunity for an IT-savvy, seasoned marketing professional to enter a top-notch staffing & recruiting company and grow the business to new levels globally.
Candidate profile
Minimum 10 years of progressive marketing experience driving marketing planning and execution in the technology or human capital industry
Bachelor's degree in marketing, business, IT or related field; MBA preferred
Direct experience in digital marketing strategies and demand generation (SEO, web, social media, etc)
Expertise in data analytics platform technologies and social media (e.g. CRM, marketing automation, analytics) and data-driven mindset
Experience in project- and budget management
Experience working for a mid/large-sized global matrixed organization
Interested?
You can apply to this position by using the link below. ManpowerGroup is working with Top of Minds to fill this vacancy.
Deze procedure is gesloten (05-07-2021).
Over deze headhunter - Top of Minds
Top of Minds is een Executive Search bureau met een internationaal werkveld. Onze recruitment Consultants hebben allemaal een individuele focus, van FMCG en Retail tot e-Commerce en Digital. De succesfactor van Top of Minds is storytelling: great stories attract great people.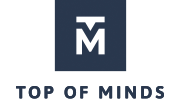 Meer vacatures van Top of Minds op Lintberg
Top of Minds is sinds 2011 aangesloten bij Lintberg.