Deze procedure is gesloten (03-05-2023).
Vakgebied

Management

Salaris

€ 100.000 - 130.000

Locatie

Amsterdam

Dienstverband

Permanent

Headhunter

Search X Recruitment
The organisation
Why do living beings survive on earth? Because they adapt. And if you not only survive but thrive, you can rightfully call yourself successful. And that's just what they did here, by making big changes and shifting to where the opportunities are. It's one of the Dutch proudest organizations thriving, but they need your help.
Tell me more…
As one of the biggest, oldest, and most iconic companies in the Netherlands, they've been reaching all over the world with their original product. But since there is much more, and possibilities in electricity products came faster than global warming, they adapted, as I told you just now.
Expanding the brand, and building from the market they already owned, that's what they still do. Now they own multiple markets, and they're worldwide recognized as a company that makes electrical products in divergent sectors; from domestic appliances to audiovisual, to professional healthcare. And every part needs exceptional quality in order to keep their reputation. Quality that you help to deliver.
The position
Impressive, how can I contribute?
You can be the Product Manager in the team, where you define and maintain the overall product vision based on the Digital Platform strategy. With your experience, you know what everyone has to do and now you're ready to manage other Product Owners. Maybe you've even done that before and now you can put everything to the test. It comes with big responsibilities, but that's why you're suited to do this. The challenge and the managing aspects are just the things you need in this part of your career.
Candidate profile
And do I qualify for this many challenging job?
With your experience, you absolutely do. You've got years and years of experience in a consumer-focused, multinational environment. You know how a Product owner thinks, because you've been one yourself. That's why your inclusive leadership qualities can be used to the full extent. Digital technologies and architectures like PIM, DAM, CMS and platforms like SAP Commerce Cloud and Shopify are familiar to you. The challenge and the managing part are appealing to you.
The offer
That's me indeed, but is the salary competitive?
You tell me. Is a yearly salary of up to €130.000 gross competitive enough for you? And you get to work in such a big and dynamic multinational that your career gets much more meaningful. Working with new technologies, opportunities for growth, and variety and challenge are other keywords that are cliché, but definitely relevant here. Is your interest relevant? Talk to us about it and we'll tell you much more.
Interested?
You can apply to this position by using the link below.
Deze procedure is gesloten (03-05-2023).
Over deze headhunter - Search X Recruitment
Wij zijn Search X. Een recruitment agency, gespecialiseerd in het bemiddelen van IT, Sales en Marketing professionals voor vaste vacatures en freelance opdrachten. Van Junior tot Executive level en van Start-up tot Multinational, maar altijd met het uitgangspunt: Kwaliteit boven kwantiteit, eerlijk en oprecht.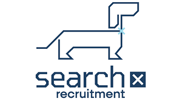 Meer vacatures van Search X Recruitment op Lintberg
Search X Recruitment is sinds 2020 aangesloten bij Lintberg.