Deze procedure is gesloten (04-11-2022).
Vakgebied

Management

Salaris

Salary undisclosed

Locatie

Antwerp

Dienstverband

Permanent

Headhunter

QTC Recruitment
The organisation
For a recently founded biotech organisation, which develops innovative therapies for the treatment of neurodegenerative diseases, a Chief Executive Officer (CEO) is needed. Its lead program (oligonucleotide-based) is currently in lead optimisation phase and scheduled to move to clinical phase by 2024. Up until this point in time, the company operated virtually, but is now planning to create a core team over the next 12 months.
The position
As CEO, you will be responsible for building the company and team and, developing the strategy moving forward. It's important that you build connections with VCs, pharmaceutical partners, academic researchers, and other stakeholders. You will be in the lead in raising a new investment round by the end of 2023. Furthermore, you will bring a balance of business and operational skills and scientific understanding, ideally with a background in CNS/neurology.
Candidate profile
As the ideal candidate, you will recognise yourself in having a scientific degree in Life Sciences (think of MSc, MD, or PhD) with a good understanding of biology, medicine and Biotech R&D. Ideally, you completed a Business degree (MBA, MSc Management, or equivalent by experience).
Strong communication skills are needed, and you should have an interest in building a sound network with biotech and pharmaceutical companies, academic labs, clinicians, CROs and KOLs as well as venture capital companies. Of course, you have strong communication skills (verbal and written) in English. Furthermore, there is required:
Previous experience with budgets, financial planning and strong operational and project management skills;
The ability to work across functions, be a team leader and coach, combining high IQ and EQ;
A strong entrepreneurial spirit with enthusiasm, energetic and "hands-on" approach, driven to execute, able to inspire stakeholders and to lead this venture in a proactive, collaborative way to the next level;
Inspirational leadership skills and strong executive presence with a strong appetite for innovation;
Resilience and you are capable to adapt to changing and challenging situations;
Excellent judgment and strategic decision-making skills among a range of options and in the face of uncertainty and a results-oriented personality;
Ability to motivate and work with others in a highly collaborative environment, establish common ground and forge partnerships and work with VCs and understand expectations.
The offer
This CEO position gives you the ability to make a significant next step in your career. This organisation and position offers you the rare chance to develop this start-up with strong financial backing and even more importantly a strong group of scientific and business professionals.
Unique opportunity to build your 'own' company and team;
Your salary plus package will be reflective of this opportunity;
Opportunities as the business grows.
Interested?
You can apply to this position by using the link below. For more information please contact Martin van der Velden, +31 6 82 05 77 09.
Deze procedure is gesloten (04-11-2022).
Over deze headhunter - QTC Recruitment
QTC Recruitment is a reliable recruitment partner, specialising in search and selection of professionals in the life sciences industry. We provide tailored services all over Europe, offering a search proposal to find specialised candidates for demanding positions in a competitive labour market. Through decades of experience in life sciences recruitment, we have developed an extensive network of leading employers and specialists in Europe. Our goal is to make both clients and candidates happy with a new job opportunity or a matching specialist through our reliable, transparent, and personal way of doing business. QTC is all about making a difference for you on Quality, Time, and Cost.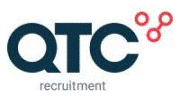 Meer vacatures van QTC Recruitment op Lintberg
QTC Recruitment is sinds 2015 aangesloten bij Lintberg.