Deze procedure is gesloten (06-10-2020).
Vakgebied

Legal

Salaris

Salary undisclosed

Locatie

Amsterdam

Dienstverband

Permanent

Headhunter

Confius Executive Search voor ATB
The organisation
Amsterdam Trade Bank N.V. (ATB), is a fully licensed European bank, head quartered in Amsterdam and supervised by the Dutch Central Bank (De Nederlandsche Bank). ATB was established in 1994 and has been a fully owned subsidiary of Alfa Group, one of the largest financial institutions in Russia, since 2001. The Bank is part of the ABHH Group, headquartered in Luxembourg.
At this stage, the Bank provides standard and tailormade products in the field of Structured Trade & Commodity Finance, Corporate Banking, Treasury, Financial Institutions and International Money Transfers. Further, the Bank offers online deposit facilities to consumers in the Netherlands, Germany, Austria and the UK. Over the years, ATB has built a strong reputation as a reliable partner for international Financial Institutions, Export Credit Agencies, large European manufacturers and exporters, commodity traders and other corporates. ATB has recently taken the decision to broaden its business model and specifically to focus on the development, acquisition and deployment of digital technologies in the SME sector. ATB's vision is to become a fully digital European finance platform with primary focus on the B2B segment and B2B2C (fintech integration) via open API.
ATB aims to build a banking model that is tailor-made to the needs of SME businesses, using a combination of own and outsourced technology to provide a range of products including transaction and mobile banking, lending, a marketplace for financial services and open API for Fintechs to provide their products via ATB's platform. ATB has ambitious goals and expects to launch its first SME lending products in the UK and Netherlands before the end of 2020, building up to a portfolio of Euro 1 billion by 2024. Importantly, ATB's shareholders have voiced their support for the digital strategy.
The position
The Digital Bank (DB) contributes to the realization of ATB's new strategy to become a fully digital European finance platform with primary focus on the B2B segment and B2B2C (fintech integration) via open API's. For this new digital bank, we are looking for a General Counsel.
Tasks & responsibilities
As General Counsel you will be part of the core team of the new Digital Bank of ATB. Your core focus is to advise the Management Board and CDO from a hands on legal perspective on subjects regarding terms and conditions of the product offering, documentation and (organizational) structures..
The GC work concerns customary practices applicable to the relevant businesses.
You will write, review, draft and negotiate all relevant legal documentation relating to the governance of the Digital Bank of ATB.
You can think of legal terms and conditions of the product offering, legal compliance and security documentation associated with transactions, as well as negotiating agreements with third parties such as service providers.
Furthermore you may be involved in corporate structuring matters.
You liaise with external lawyers when necessary. You also keep a close eye on new laws and regulations coming on stream in the banking and fintech space relevant to the Digital Bank.
You report to the Chief Digital Officer.
Candidate Profile
We are looking for an ambitious candidate who likes to work in an international environment where professionalism is the standard and where a high level of education and knowledge is available.
In this role you need to be accurate and analytical. A strong attention to integrity, reliability and detail is a must. In addition we expect you to have a strong set of communication skills and a cooperative (work) attitude.
You are pro-active, pragmatic, hands-on, have a self-starting approach, are eager to learn and like to share knowledge. Having a team player mentality is essential; we work in a small team and cooperate with different business departments of the bank. You thrive in a place where you can be the driving force in establishing a sound legal function.
We look forward meeting candidates with the following work experience and/or knowledge:
Master's degree in Dutch Law (LLM);
10 - 15 years of relevant experience as a lawyer (within the financial sector). You could have spent a number of years at a relevant practice at a law firm and subsequently spent some years as an inhouse counsel, preferably in a Fin Tech/ Digital Payments;/ Trading platforms, environment etc;
Understanding of regulatory environment in which banks are required to operate (sound understanding of Wft, Wwft, PSD2 etc);
Experience with or interest in working in an international startup environment;
Appreciation of the commercial environment between bank and customer;
Fluent communication skills in English (both verbally and in writing). Mastering the Dutch language is to be considered as an advantage.
Interested?
You can apply to this position by using the form below. For more information please contact Confius Executive Search;
Paul van Maarschalkerwaart, 06 - 46633769 or Lodewijk Lugard, 06 - 46467997.
Deze procedure is gesloten (06-10-2020).
Over deze headhunter - Confius Executive Search
Confius Executive Search richt zich op directie, senior management en senior professionals binnen de segmenten Legal, Finance, ICT & HR.
Uw business partner voor een succesvolle match. Wij verbinden uw business case met de capaciteiten en ambities van onze kandidaten: senior managers en professionals die een duidelijke visie hebben, bekwaam leiderschap tonen, out-of-the-box denken en een 'getting things done'-mentaliteit hebben.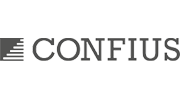 Meer vacatures van Confius Executive Search op Lintberg
Confius Executive Search is sinds 2008 aangesloten bij Lintberg.