Solution Architect Network Appliances
Deze procedure is gesloten (09-04-2014).
Vakgebied

IT

Salaris

100k - 150k per annum

Locatie

Noord-Brabant

Dienstverband

Permanent

Headhunter

RICTV
Organisatie:
Onze Opdrachtgever is onderdeel van een internationale onderneming en is als marktleider in Nederland al vele jaren achtereenvolgens succesvol op het gebied van IT services, solutions, SW en HW, met name ten behoeve van de beheersing van informatie- en documentstromen. Haar integrale dienstverlening is er op gericht de productiviteit van klanten te verbeteren en de kosten te verlagen.
?Dankzij de sleutelrol die zij heeft gespeeld bij de snelle ontwikkeling van de wereldwijde kantoorautomatisering en door de opgebouwde expertise in document beheer, Production Printing, kantooroplossingen, DPO & IT-services is het bedrijf uitgegroeid tot wereldwijd marktleider in duurzame document oplossingen. Onze opdrachtgever heeft de transitie naar een Services organisatie inmiddels succesvol ingezet en wil deze dienstverlening de komende jaren sterk uitbreiden.
IT Dienstverlening is een van de strategische groeifactoren in Nederland en wordt geleverd vanuit de afdeling IT Services, die de ambitie heeft om in de komende drie jaar haar omzet te verviervoudigen en daarmee een (h)erkende Managed IT Services leverancier in Nederland te zijn. Een stevige doelstelling, met vele uitdagingen én kansen voor onze IT Services collega´s.? ?Voor de IT Services zoeken we een Solution Architect Network Appliances (NA) Solutions (Unified Communications, Interactive Whiteboards, Projectoren, Digital Signage) met stevige ervaring bewezen trackrecord op vlak van het ontwerpen en implementeren van communicatie en videoconference oplossingen (Polycom, Cisco, Tandberg of een equivalent daaraan).
Functie Omschrijving:
Het zwaartepunt van de functie ligt op ontwerpen en implementeren van NA oplossingen voornamelijk in het grootzakelijk segment. Mede dankzij jou brengen we ons NA portfolio naar bestaande en nieuwe klanten, waardoor de afdeling substantieel zal groeien qua ´contracted value´, omzet, resultaat en personeel.
Je ondersteunt de sales bij het behalen van sales resultaat uit de top accounts in Nederland en je werkt daartoe nauw samen met haar Business Development- , Client- en Account Managers.
Je wordt gesteund door een krachtig en breed IT Services team (Marketing, Pre-Sales, Consultancy, Architectuur en Delivery) in Nederland dat nauw samenwerkt met het Europese IT Services team.
Taken en verantwoordelijkheden:
Solution Architect (SA) is a bridge between Sales, Delivery and Service organization.
The SA should also act as Business Development for the local market in the upstart phase;
In that work SA should work closely together with the local IT Services team and the centralized RE NA team, forming the NA Virtual team in EMEA;
Support sales with technical skills for NA products and solutions in meetings with customers and for quotation;
Develop technical solution for customer specific cases;
Implement the centralized developed value propositions in sales organization;
Implement value propositions in the local Operating Company operational organization;
Follow up all NA deals made in the local Operating Company;
Assist in lager tenders.
This role also involves liaising with the other NA regional organizations and Head Office departments to ensure that all activities are correctly executed as agreed with the customer;
This person will also be responsible for optimizing processes and tools in the local operations team to continuously improve quality and efficiency;
Provide training and support to local existing functions (sales and operations), in order to be able to support and manage NA business.
Functie eisen en wensen:
At least 5 years' experience of:
System design in the communication and videoconference business (Polycom, Cisco or equivalent).
Technical need analysis in real customer cases in the communication and videoconference business (Polycom, Cisco or equivalent);
Working in bid team with short deadlines and high level of activity.
Experience of managing and driving process change and improvement in a solutions-led business;
Understanding of customer, from both a technical point of view as well as the business value for the customer;
Experience from international operational business environment;
Excellent project management skills and a proactive, process driven approach;
Commercially aware;
Ability to think strategically and analytically;
Self-motivated to a very high degree, with drive and resilience as well as integrity and self-awareness;
Attention to detail, coupled with excellent planning and organizational skills;
Flexibility.
Communication:
Good conflict management skills;
Excellent skills in communication, both in written and spoken language;
English and Dutch oral and written communication skills (to business level);
Proficiency in Microsoft Office, including Word, Excel, and Outlook.
Team Management:
To promote the Solution Architect´s working processes within the organization;
Ensure that the System Solutions in contractual agreements with the customer are met within the stipulated timeframe and to the highest standard;
Support internal NA strategic projects within the Europe organization;
Increase customer revenue and net contribution through the delivery of NA Solutions.
Project management, service management and operational support:
Ensure professional creation of communication solutions;
Understand customer needs and create system solutions accordingly;
Ensure high quality technical service design of value propositions for operating companies and customers.
Onze opdrachtgever biedt:
Een ambitieuze, succesvolle en groeiende professionele werkomgeving in de informatietechnologie.
Het keurmerk Top ICT werkgever 2013 dat zij heeft verdiend door uitmuntend te scoren in primaire en secundaire arbeidsvoorwaarden, interne promotie kansen, bedrijfscultuur, opleiding en training en innovatie.
Invulling aan je (persoonlijke) ontwikkeling met trainingen via de interne Academy.
Werken via de ICK- CAO (Informatie-, Communicatie- en Kantoortechnologie).
25 vakantiedagen en 13 ADV dagen (bij fulltime).
De mogelijkheid je arbeidsvoorwaarden af te stemmen op je eigen wensen via a la carte. Zo is het mogelijk te kiezen voor extra vrije tijd, secundaire training, extra pensioenstorting, spaarloon, levensloop regeling of salaris door het inleveren van ADV, restant verlof of salaris.
Een bruto jaarsalaris dat kan oplopen tot ca. €110.000,- (= incl OTE bonus 70/30).
Een lease-auto, laptop en mobile telefoon.
Interesse?:
Je wordt verzocht te reageren via onderstaand formulier met toevoeging van een gerichte motivatie.
Deze procedure is gesloten (09-04-2014).
Over deze headhunter - RICTV
RICTV heeft zich in de afgelopen 10 jaar uiterst succesvol gespecialiseerd in executive search opdrachten voor ICT management, sales en overige ICT-sleutelposities.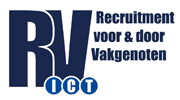 Meer vacatures van RICTV op Lintberg
RICTV is sinds 2013 aangesloten bij Lintberg.