Development Manager E-Commerce
Deze procedure is gesloten (04-04-2023).
Vakgebied

IT

Salaris

Max. € 110.000

Locatie

Amsterdam

Dienstverband

Permanent

Headhunter

Search X Recruitment
The organisation
For one of the largest e-commerce platform's in the world, with more than 200 worldwide active online stores, we are recruiting a Development Manager E-commerce. Do you have experience in managing multiple platforms? Do you want to feel what it's like to be responsible for online stores with more than a billion in revenue? And interested in helping them double in the next years? Please continue reading or get in touch with us right away!
The position
What would be your roadmap?
As their Ecommerce continues to grow we are looking for experienced leaders with the ability to coach and inspire teams in an agile, non-hieratical, and fast-paced environment. Your key responsibility as a Development Manager will be to coach and develop a team of engineers, take responsibility for eliminating impediments, and actively evolve their technology stack. You will have final accountability for effective value delivery as well as a budget for your team.
Candidate profile
What do I need to bring in?
You are that Development Manager that has multiple years of experience in managing tech teams as well as a solid understanding of backend technologies like Amazon AWS, Java, databases, and development principles like continuous integration, continuous delivery, and version control. You are not afraid to show off those strong leadership skills and track record in coaching and developing engineers in a flat and dynamic organization.
Your experience in successfully scaling up teams with a constant focus on quality and having an agile mindset and approach to leadership is what motivates you most and makes sure that you are setting priorities and resource allocation.
The offer
What is the return on investment of your time and energy?
Up to €110.000,- gross per year is what you can achieve for this role depending on your skill set. This role will offer a huge adventure in terms of company growth, technical challenges, and sufficient resources to cover the investment of new technologies.
Interested?
You can apply to this position by using the link below.
Deze procedure is gesloten (04-04-2023).
Over deze headhunter - Search X Recruitment
Wij zijn Search X. Een recruitment agency, gespecialiseerd in het bemiddelen van IT, Sales en Marketing professionals voor vaste vacatures en freelance opdrachten. Van Junior tot Executive level en van Start-up tot Multinational, maar altijd met het uitgangspunt: Kwaliteit boven kwantiteit, eerlijk en oprecht.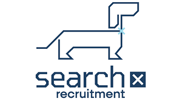 Meer vacatures van Search X Recruitment op Lintberg
Search X Recruitment is sinds 2020 aangesloten bij Lintberg.