Deze procedure is gesloten (14-12-2020).
Vakgebied

IT

Salaris

€ 100.000 - 150.000

Locatie

Amsterdam

Dienstverband

Permanent

Headhunter

Search X Recruitment
The organisation
2020, the year of the work-from-home revolution. We've finally broken free from outdated traditions and it has forever changed the way we do things. But remote working is not without its challenges, especially when it requires collaboration. So how do we make sure to keep communicating, sharing ideas, and challenging each other?
With software, of course!
As usual, technology is the answer. A platform where people can work together online just like they would if they were in the same room. With post-it notes, flip-overs, whiteboards, and flow charts. The only difference? These post-it notes are fully integrated with Slack, Trello, and any other tool you can imagine.
From the occasional brainstorming-session to complete sprint planning and project management, it's all made possible by this one single platform. And because it all happens in the cloud, it's available anywhere, anytime. At least, for the current number of users, it is. But that number is increasing, and they need your help scaling up.
The position
What can I do?
Now that working-from-home is starting to look more like a permanent reality than an occasional luxury, the number of users is rising quickly. From over 8 million currently, to potentially hundreds of millions in just a few years. The infrastructure is having trouble keeping pace which is why it'll be up to you to prepare it for the future.
Sure, but how?
Building a reliable and scalable infrastructure using AWS is probably the most important part. The platform is already considered business-critical by several clients, so uptime is of the utmost importance. Fortunately, IaC can do most of the heavy lifting for you. That way you have time to focus on maintaining and improving the CI/CD processes to support the development team.
Candidate profile
Sounds like quite a challenge. Are you sure I'm up for it?
To be honest, it might be too big of a challenge even for you. You'll clearly need quite a bit of solid experience as a DevOps engineer and proven experience with AWS. Automation is the name of the game so Python and Terraform skills will also come in handy, as will a good understanding of Docker and Kubernetes. And lastly, strong communication skills are a must. It's all about collaboration, after all.
The offer
I'm definitely up for it, but I would like to get paid…
No worries there. You'll start with a very comfortable base salary up to €95.000 gross a year and all the secondary benefits you can think of. From a pension plan and health insurance to WFH-compensation. Still, the major selling point here has to be the opportunity to make your mark on a fast-growing scale-up with the goal of changing the way people work, everywhere.
Interested?
So, what are you waiting for? Apply now by using the link below and get started!
Deze procedure is gesloten (14-12-2020).
Over deze headhunter - Search X Recruitment
Wij zijn Search X. Een recruitment agency, gespecialiseerd in het bemiddelen van IT, Sales en Marketing professionals voor vaste vacatures en freelance opdrachten. Van Junior tot Executive level en van Start-up tot Multinational, maar altijd met het uitgangspunt: Kwaliteit boven kwantiteit, eerlijk en oprecht.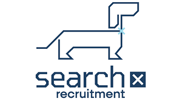 Meer vacatures van Search X Recruitment op Lintberg
Search X Recruitment is sinds 2020 aangesloten bij Lintberg.