Head of People Operations
Deze procedure is gesloten (01-07-2022).
Vakgebied

HR

Salaris

Salary undisclosed

Locatie

Amsterdam

Dienstverband

Permanent

Headhunter

Top of Minds Executive Search for Ohpen
The organisation
Ohpen is the first fintech player with a cloud-native core banking platform. Its SaaS-solutions free financial institutions from their legacy software and empower them to meet the needs of tomorrow's customers. The company supports retail banks, asset managers, insurers, lending and mortgage specialists, online brokers, and private banks. Ohpen is the market leader in the Netherlands, where its clients include Aegon, Knap, Robeco, and Nationale Nederlanden.
"As we're growing, we're re-establishing our culture. Core elements that we build upon are our people-focus and our ambition to be frontrunners. We value extraordinarity, meaning we cherish people that bring something unique and dare to do things differently, and we appreciate everyone for who they are." – Xandra Niehe, Chief People & Culture Officer
End of 2020, Ohpen – supported by investors Amerborgh and NPM Capital – acquired Davinci: developer of the market-leading Close lending platform for origination and servicing of mortgages and loans. The combination of these two fast-growing companies (together they have about 330 FTE and 25+ million dollars in revenue) allows it to become the only cloud-native core banking engine to offer a full suite of products across savings, investments, loans, mortgages, and current accounts.
The acquisition marks an exciting new phase of international growth. Ohpen is currently focusing on scaling up its commercial activities in the Netherlands, the UK, and Belgium, and then expand into new markets. In terms of HR, the acquisition required fusing two separate entities and ways of working together. An interesting challenge the company is still working on through thoughtful initiatives, and at the same time an opportunity to create a new culture that takes the best of both worlds.
The position
Ohpen stands for banking done better. The company's cloud-native core banking platform gives financial providers the freedom to create and innovate. The Head of People Operations will strengthen the HR practices that enable further growth and make the company the preferred employer for (fin)tech talent.
Tasks & responsibilities
The Head of People Operations will develop and lead Ohpen's people practices facilitating further growth and delivering next-level HR support to the business. The company fosters a working culture based on autonomy, trust, and ownership. The Head of People Operations will work closely with senior management to design and implement the people strategy. They will report to the Chief People & Culture Officer.
One of the key responsibilities of the Head of People Operations is to spearhead the People Department, consisting of five People Operation Specialists and Business Partners. They are located across four locations: Amsterdam, Antwerp, Barcelona, and Bratislava. Each of the team members takes ownership of their own domain, allowing the Head of People Operations to focus on providing structure, setting priorities, and leading projects and change, all to make sure their team – and the rest of the organization – can work effectively.
"At Ohpen people get the chance to develop themselves, create a positive impact for clients, and have fun while doing so. Our new Head of People Operations will set a high bar for our people practices and strengthen our culture as we grow." – Xandra Niehe, Chief People & Culture Officer
The Head of People Operations will be a trusted business partner for Ohpen's management team and will be their main advisor when it comes to defining and implementing the people strategy. Topics the Head of People Operations will focus on include employee engagement, retention, performance management, learning & development, compliance, onboarding, and leadership.
The main challenge for the Head of People Operations will be to manage the dynamics of an international organization, including the technical and legal complexities that come with a cross-border footprint. Additionally, the role requires the Head of People Operations to switch between HR strategy and operational responsibilities, such as payrolling and setting up new traineeships and internship programs together with the business.
The role provides a great opportunity for an experienced HR professional to manage a team, enable growth in a fast-paced environment, and have significant exposure to senior management and the overall company strategy.
Candidate profile*
Over ten years of work experience in HR
Background in tech
Experience with managing international HR teams
Cultural sensitivity & adaptability
Knowledge of Dutch employment law
* Research shows that while male candidates feel confident enough to apply when they meet about 60% of the requirements, female candidates only apply when they tick every box. So if this role has your name on it, but you're not sure about the criteria, we still want to hear from you.
Interested?
You can apply to this position by using the link below. Ohpen is working with Top of Minds to fill this vacancy.
Deze procedure is gesloten (01-07-2022).
Over deze headhunter - Top of Minds
Top of Minds is een Executive Search bureau met een internationaal werkveld. Onze recruitment Consultants hebben allemaal een individuele focus, van FMCG en Retail tot e-Commerce en Digital. De succesfactor van Top of Minds is storytelling: great stories attract great people.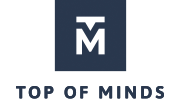 Meer vacatures van Top of Minds op Lintberg
Top of Minds is sinds 2011 aangesloten bij Lintberg.