Deze procedure is gesloten (15-04-2023).
Vakgebied

Finance

Salaris

Max. € 119.000 OTE

Locatie

Amsterdam

Dienstverband

Permanent

Headhunter

Search X Recruitment
The organisation
Look around you when you're on the road. There are still way too few electrically powered vehicles driving around. If we want to make a real environmental change, we must operate on a wider scale. That's about to happen.
How is this going to change?
Did you notice that all across Europe, charging stations are installed for every car user with an electric engine? One can't miss that everyone is preparing for the time when no car has a fuel engine anymore. But we're missing out on a major part of road users, that still use old-fashioned gas engines. The facilities are running behind: not every vehicle can charge conveniently on a long trip.
This brand-new organization is specifically established to fix that problem. From their base in the Netherlands, their mission is to accelerate the transition to zero-emission vehicles in Europe. They realize that by building and managing reliable and secure high-performance charging solutions, specified per type of vehicle. With some huge investments and collaboration from a few brands, this is the future of electrical driving.
The position
Finally! Something we need. What do they need me for?
With building huge infrastructures for charging come huge costs. You will be the expert on analyzing and optimizing key figures of those costs. You will map out the expected costs of a project, the Total Cost of Ownership and Life Cycle Costs and will evaluate the budgets when projects are completed.
Candidate profile
That's a big challenge, but I think I can do this
With your experience, you can. You have an engineering background and are able to work meticulously and precisely. You are able to create, analyze and evaluate cost data. If you are in possession of an ICEC certification, that would be a huge plus. With the capability to work closely with external parties to have the next-generation solutions ready to operate, you're ready to go.
The offer
That's my thing. Will I earn enough to have my own charging station?
If you really want that, it's possible. Your salary won't be a problem. It will end up as a nice yearly amount between €75.000 and €85.000 gross and an attractive bonus package of about 20-40% on top of that. But we're not there yet. They want them to join you not just for a job, but for a career. Their pension plan is looking very nice, and you'll receive unlimited(!) holiday days. How about that? We can't imagine something more appealing, but it's your job to click that Apply button.
Interested?
You can apply to this position by using the link below.
Deze procedure is gesloten (15-04-2023).
Over deze headhunter - Search X Recruitment
Wij zijn Search X. Een recruitment agency, gespecialiseerd in het bemiddelen van IT, Sales en Marketing professionals voor vaste vacatures en freelance opdrachten. Van Junior tot Executive level en van Start-up tot Multinational, maar altijd met het uitgangspunt: Kwaliteit boven kwantiteit, eerlijk en oprecht.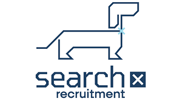 Meer vacatures van Search X Recruitment op Lintberg
Search X Recruitment is sinds 2020 aangesloten bij Lintberg.