CFO FrieslandCampina Rusland
Deze procedure is gesloten (14-03-2010).
Vakgebied

Finance

Salaris

€ 120.000

Locatie

Moskou

Dienstverband

Permanent

Headhunter

Career Openers
Company Profile
General

Across the world more people are turning to milk and dairy products. FrieslandCampina enriches lives by transforming milk into high quality foods, drinks and ingredients. Via the merger between Friesland Foods and Campina the new organization can respond as effectively as possible to the liberalisation of the international dairy market. As such FrieslandCampina can achieve cost reductions, extra income and accelerated knowledge development synergies.
It is FrieslandCampina's ambition to become the world's most professional, successful and attractive global dairy company. FrieslandCampina is currently the third dairy company in the world (revenue: €9 billion).
FrieslandCampina produces and sells:
Dairy products and fruit based drinks for consumers: Milk, concentrated milk, milk powder, infant and toddler nutrition, dairy and fruit based drinks, yoghurts, desserts, cream, coffee enricheners, cheese, butter, meat alternative.
Dairy products for professional use: Cream, butter, milk fat fractions.
Ingredients for food and pharmaceutical companies: Caseinates, milk powder, encapsulated fat powders, encapsulated nutritional oils, protein hydrolysates, milk calcium, food grade lactose, pharma lactose, desintegrants, cream liqueurs, young animal feed and whey proteins.
Organization

The FrieslandCampina organization is divided in 4 Business Groups. Consumer Products Europe (CPE), Consumer Products International, Cheese & Butter and Ingredients. The Consumer Products Europe business group comprises all activities in Europe in the area of consumer milk, dairy drinks, yoghurts, desserts, coffee enhancers and cream. This business group is also active in fruit juices and fruit drinks. The operating companies carry brands that are familiar to a broad range of consumers. Examples include Campina, Chocomel, Friesche Vlag, Fristi, Landliebe, Mona and Optiwell. But also Milli in Hungary and Romania, Noy Noy (Greece) and Fruttis in Russia. The majority of the production takes place in these countries.
Consumer Products Europe sells products via supermarket chains and out-of-home locations (petrol stations, kiosks, canteens). This business group also delivers products to professional processors such as bakers and ice cream manufacturers.
CPE is responsible for 32% of the revenue of FrieslandCampina.
For more information: www.frieslandcampina.com.
FrieslandCampina: An appealing employer

FrieslandCampina has a traditional corporate structure comprising several operating companies. As these operating companies are largely autonomous, the organisation offers numerous full-time management posts at various levels (both large and smaller operating companies). As a CFO or a Marketing Director, for instance, you are the executive of an independent firm. The wide range of responsibilities that the firm offers gives you the opportunity to develop all-round skills and expertise. And this naturally has a positive effect on your internal and external employability. The structure comprising operating companies is in keeping with FrieslandCampina's strategy, which is based on marketing strong local brands. The firm would therefore never consider rebranding its successful Nigerian 'Peak' brand as, for example, 'Campina'.
Another aspect that has an impact on all-round development is the fact that FrieslandCampina operates in Private Label, Branded Products and Wholesale. In Albert Heijn supermarkets throughout the Netherlands, for instance, Milner cheese (a key brand) can be found on the same shelf as Albert Heijn Euroshopper and Westland brands. All of these brands of cheese originate from plants belonging to FrieslandCampina. Complex portfolio management is therefore required if you not only want to further develop the brand, but also manage the potential conflict between Private Label, Branded and Wholesale.
FrieslandCampina is an informal organisation, with short lines of communication to senior management. The organisation is both large and truly global, while at the same time remaining small and intimate. One might aptly describe the corporate culture of the firm previously known as Friesland Foods as highly entrepreneurial. After all, the organisation had branches throughout the world. Campina, which operated in the Netherlands and Germany, was by contrast more disciplined than enterprising. The employees nevertheless view the fact that these two cultures have begun to cross-contaminate one another as highly refreshing.
Business context and complexity Russia

The Russian Operating Company of CPE produces, markets and sells in this country and exports to CIS-countries. The product range consists of dairy products, fresh and UHT (Ultra Heat Treatment - partially sterilized) milk, drinks, yoghurts, cheese, special cheese, butter, desserts and new business development products.
Challenges / Complexity of the business:
Russia is an emerging market in all its aspects;
There is a strong focus on growth;
Complex management of external relations with government, traders and suppliers;
Milk supply from non-members;
Constantly balancing the working capital, operational costs and customer service.
The Russian Operating Company (OpCo) of CPE has 2 locations (including HQ in Moscow), 1 production plant (70 km from Moscow), assets of 70 mln and a turnover of ca. 100 mln. CPE Russia employs 450 FTE.
Position Profile
General
Due to the promotion of the current CFO for Russia, CPE Russia would like to meet candidates for the position of CFO.
Purpose of the job
The CFO is overall responsible for the proper functioning of the F&A / controlling and IT-management and functional responsible for accounting of CPE Russia. On a strategic and tactical level and in execution Planning & Control, in order to deliver timely, adequate and reliable management-information in line with corporate guidelines and to support strategic business development.
Result areas
1. Finance & Accounting support to strategic business development
- Appreciated contributions to the process / being a counselor for the Managing Director and the Management Team of the Operating Company (OpCo) Russia;
- Proactively advises management of the OpCo in decisions with substantial financial consequences, and takes care of financial analyses to support these decisions, to ensure financial awareness in decision making and to minimize financial risks (co pilot role).
2. Business Year Planning
- Coordinates, controls and consolidates financial year plans for the OpCo, including budgets, in line with the strategy of the Business Group (BG) and the OpCo and the market developments and other business objectives, which gives guidance for the activities of the OpCo.
3. Planning & Control
- Controls the process of Mid Long Term Planning, budgets, forecasts, monthly reporting etc. of the BG, takes corrective actions when necessary and ensures adequate reporting, within the corporate and BG guidelines, to ensure that the business area delivers its budgets and financial targets are realized;
- Reporting has to be done on a monthly basis, highlighting deviations and following up whether agreed actions result in expected outcome.
4. Management Information
- Timely and accurately delivery of reports / management information;
- Analyses short and long term to support financial based decisions;
- Investment- and cost reduction-programs;
- Manage financial structure and working capital;
- Manage legal, risk management, tax and treasury matters within corporate guidelines.
5. Human Resources management
- Human resources management in F&A dept. in compliance with corporate HRM-policy, resulting in desired organization structure, culture and workforce.
6. Credit Control /working capital
- Manage overall credit control process with focus on credit risk, management of DSO and overdue reduction and inventory levels;
- Control and improvement of overall working capital of the OpCo;
- manage the balance-sheet: working capital / operational costs /
customer service.
7. IT department
- Responsible for efficient and effective IT department compliant with local requirements and aligned with corporate guidelines;
- Establishment of stable, problem free communications (LAN, between locations, telephone systems);
- Establishment of stable, problem free hardware infrastructure (LAN equipment, copies, printers, PC's, servers, routers);
- Stable functioning of main business applications (Navision, Advantix) and further developments of these applications on request of business managers).
Position in the organization
The CFO has a hierarchic reporting line to the Managing Director of the Russian Operating Company, Mr Marco Spits. The CFO has a functional reporting line to the Director of Finance & Reporting within CPE, Mr. Thierry Couplez.
The CFO has a total number of 4 direct reports (hierarchic, 3 from the finance discipline and 1 functional from the IT discipline). There is a total number of 16 indirect reports (13 finance, 3 IT). The total number of functional direct reports is 5 (4 finance, 1 IT).
INTERVIEW WITH ANTON OOIJEN (HR DIRECTOR CPE) AND THIERRY COUPLEZ (DIRECTOR FINANCE & REPORTING CPE):
Anton Ooijen: 'FrieslandCampina has become a magnificent organisation after the merger. We have the ambition to become the most professional, successful and attractive dairy company of the world. We can offer talented people a broad range of opportunities. With a significant number of international positions available in the area of Finance, there is plenty of scope for the development of talented individuals. A position is about to become available in Russia now that the current CFO is moving to a new function within FrieslandCampina.'
Thierry Couplez: 'The crisis hit us hard in Russia, but we are now growing again. We are looking to triple turnover in Russia in the next three to five years. Longlife yoghurt and drinks are an important spearhead, but there's also plenty of room for growth opportunities in the existing segments as well as in infant, toddler and cheese segment. Our head office is in Moscow and the production factories in Stupino. Our new CFO Russia will be based in the Moscow region. Russia is increasingly imposing restrictive measures on dairy suppliers from abroad. While making imports more difficult, it creates interesting opportunities for our local organisation.'
Anton Ooijen: 'Our Managing Director in Russia (Marco Spits) is a seasoned expat. Marco's work experience includes P&G and he has been with Friesland Foods for some time now. Russia is not an easy environment to work in. The culture there is clearly different. It is, for example, difficult to bind talented Russian employees to the company for any length of time. They are continuously looking for opportunities to improve their position. Our new colleague must therefore make constructive use of the talent available in the organisation. That requires a personality that fosters loyalty, while at the same time commanding respect. A soloistic, directive approach will be less successful.'
Anton Ooijen: 'We expect our new colleague to be a solid, challenging business partner for our MD. The CFO will have to show backbone when that is required. That's one of the aspects he will be evaluated on.'
Personal Profile
Person
Relevant University degree, successful completion of CPA/RA or RC;
Excellent interpersonal skills;
Fostering loyalty;
Excellent presentation skills;
Pro-active, good business judgement an analytical skills. Business partner for the MD;
Pragmatic and hands-on, not frightened by detail;
Firm and decisive;
Flexible, without losing sight of the goals;
Focus, determined to achieve results;
Has drive, is hard-working, enthusiastic and able to be passionate about the business;
Willingness to work a flexible schedule;
Experience
5-9 years working experience in increasingly senior controlling positions;
Experience with working in Russia or in Eastern Europe;
Understanding and applying the principles of internal control policies and accounting procedures / legal and tax requirements local and corporate;
Knowledge of assets and markets;
Able to identify areas of financial risk;
Able to determine and steer business implications of change-management;
Understanding information technology.
Additional
Age: 30-40;
Fluency in English; knowledge of the Russian/German language is an advantage;
Should have the potential to develop to other (line) positions.
Conditions
Home base Salary: €120.000,- (including holiday allowance);
Mobility allowance;
Hardship allowance;
Housing allowance for Russia (Moscow area);
Other relevant expat conditions;
Pension: Eligible to participate in collective pension plan.
Interested?

You can apply by using the form below. For more information you can contact Geert-Jan Joosten at +31 35 646 0343.
Deze procedure is gesloten (14-03-2010).
Over deze headhunter - Career Openers Young Executives
Bij Career Openers geven we toptalent het stuur in handen van hun eigen ontwikkeling. Al twintig jaar lang geven we hen betrouwbaar en onafhankelijk advies over hun loopbaan en leiderschapsontwikkeling. We delen hierbij interessante en relevante Managers & Directors posities, maar dit is nooit ons vertrekpunt. Zie ons als een extern klankbord wat helpt belangrijke loopbaankeuzes te maken. Niet alleen nu, maar gedurende de gehele carrière van onze kandidaten.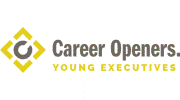 Meer vacatures van Career Openers Young Executives op Lintberg
Career Openers Young Executives is sinds 2009 aangesloten bij Lintberg.