Chief of Staff to the CEO
Deze procedure is gesloten (07-11-2022).
Vakgebied

Consulting

Salaris

Salary undisclosed

Locatie

Eindhoven

Dienstverband

Permanent

Headhunter

Top of Minds Executive Search for Neways
The organisation
Neways offers its clients custom-made electronic components and control systems for the entire product life cycle: from product development to aftersales services. The company's solutions are geared toward three segments: smart mobility, connectivity, and semiconductors. With its cutting-edge technology, Neways is an innovation partner for its clients, empowering progress in, e.g., EV charging, electric power trains, IoT, 5G, autonomous driving, digitization of healthcare, sustainable agriculture, and the production of microchips.
Headquartered in Eindhoven, Neways consists of ten operating companies and production facilities across the Netherlands, Germany, Czech Republic, Slovakia, China and theUS. The company focuses primarily on small to medium-sized specialist solutions, for which quality, flexibility, and time-to-market are key.
In 2021, Neways employed about 2,600 people and reported annual revenues of 470 million euros.
"We are shaping a sustainable future. With our technology, we enable the energy transition, advance medical applications, and facilitate an approach to product design that integrates circularity and end-of-life solutions." – Eric Stodel, CEO
As of November 2021, Neways is a portfolio company of Infestos – a Dutch family office and PE specializing in industrial and technology-driven businesses. Other Infestos (previous) portfolio companies include Alfen (energy transition) and NX Filtration (clean water technology).Infestos is a hands-on investor that provides in-depth support across the board. The acquisition gives Neways the momentum and the resources to professionalize their way of working and fuels the ambition to double in size over the next five years.
The position
Neways is a frontrunner in electronics for smart mobility, connectivity and semiconductor solutions. Supported by family office / PE Infestos, the company is planning for significant growth. The Chief of Staff to the CEO will drive progress and change on all key commercial challenges and play a pivotal role in the future success of Neways.
Tasks & responsibilities
The Chief of Staff to the CEO will work with and support Neways' CEO with a strong focus on commerce. The Chief of Staff is expected to bring change and work with the organization to drive the implementation of strategic plans and initiatives. They will have Eindhoven as their primary work location and report directly to CEO Eric Stodel, a seasoned executive.
"Chief of Staff is a new position which they can help define as they see fit. It is a perfect match for a consultant who likes a challenge, has the energy to get an organization moving, and thrives on the excitement of not knowing what next month will bring." – Steven Soederhuizen, COO
The Chief of Staff will be tasked with solving problems for which there are no clear-cut answers. This will require strong analytical skills, creativity, a structured problem-solving approach as well as strong communication and leadership skills to drive change in the organization. Topics the Chief of Staff could work on vary widely and include pricing, account and sector planning, inventory management, strategy development, procurement, client onboarding, and client service models. Through these efforts, they will move the organization forward and take Neways to the next level.
Collaboration is a key part of the role. To maximize their impact, the Chief of Staff will work closely together with counterparts from all parts of the organization. They will support the leadership of the operating companies and their teams with implementing the strategy and executing initiatives, which will require periodic site visits. The Chief of Staff will also have frequent interactions with Finance to gather (financial) data as input for their analyses. On top of being a trusted advisor to the CEO, they will also interact with the other members of the Executive Board and with Infestos.
The recent change in ownership makes this the ideal moment to join Neways. The company is entering a time of growth, investments, and professionalization, which will allow the Chief of Staff to have a significant impact on a sizeable business. Additionally, the role offers a perfect chance to prepare for a next step in line management.
Candidate profile*
Over 3 years of work experience
Background in Consulting
Strong change manager
Analytical
Interested in technology
* Research shows that while male candidates feel confident enough to apply when they meet about 60% of the requirements, female candidates only apply when they tick every box. So if this role has your name on it, but you're not sure about the criteria, we still want to hear from you.
Interested?
You can apply to this position by using the link below. Neways is working with Top of Minds to fill this vacancy.
Deze procedure is gesloten (07-11-2022).
Over deze headhunter - Top of Minds
Top of Minds is een Executive Search bureau met een internationaal werkveld. Onze recruitment Consultants hebben allemaal een individuele focus, van FMCG en Retail tot e-Commerce en Digital. De succesfactor van Top of Minds is storytelling: great stories attract great people.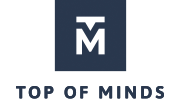 Meer vacatures van Top of Minds op Lintberg
Top of Minds is sinds 2011 aangesloten bij Lintberg.