Deze procedure is gesloten (27-02-2023).
Vakgebied

Sales

Salaris

Max. € 180.000 OTE

Locatie

Amsterdam

Dienstverband

Permanent

Headhunter

Nobel Recruitment
The organisation
Companies have an obligation to report on the amount of green energy they consume. To prove this, organizations purchase renewable energy certificates. Energy consumer can buy these certificates and this company created an innovative SaaS solution to bring supply and demand together.
Founded in 2020 and with a big investor behind it, they have grown to 46 FTE with their HQ in Amsterdam Zuid. They are part of the Leading Global Provider of market-based sustainability solutions. Their SaaS platform includes trade capture, risk management, contracting, inventory management, and taking care of the invoicing/payments.
The position
The current commercial team consists of a managing director, 3 Account executives, a BDR and 2 CSM's. A key hire for them is a Lead Account Executive who has the potential to grow into the Head of Sales. You have a proven track record in SaaS sales and ideally you have experience in coach/mentoring sales reps.
You're someone who still likes to get in the trenches and hunt new business, while you also have an entrepreneurial, proactive, and self-starting mindset to come up with new ideas and think about to improve/implement sales playbooks, structures, and taking ownership of more strategic ideas. Average deals are currently around €35K ARR with the potential up to €100K deals. Sales cycles are between 4-6 months. There is little to no competition in this space, so there is enormous potential for you in EMEA!
Candidate profile
Minimum of 3 years' experience in closing SaaS deals
Ideally experience in mentoring / coaching sales reps
Eager to close deals while also able to assist in implementing sales playbooks / structures and methodologies
Fluent in English with a 2 nd language preferred
Experience and/or Affinity with the renewable energy market is a plus!
The offer
Base salary up to €90.000 base
OTE up to €180.000
Company pension plan
25 days, phone & laptop
Great office in Amsterdam Zuid and hybrid work
Growth plan towards Head of Sales
Interested?
You can apply to this position by using the link below.
Apply for this role and plan in a first chat with Nobel to discuss it in-depth. If there is a fit, a 3-stage interview process is followed with TA, the MD, and the investors
Deze procedure is gesloten (27-02-2023).
Over deze headhunter - Nobel Recruitment
At Nobel our job is to help you find that perfect, next step in your career. We have experience on the inside and as the only Dutch agency focussing on SaaS, we're happy to connect you with one of the many befriended companies in our network.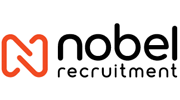 Meer vacatures van Nobel Recruitment op Lintberg
Nobel Recruitment is sinds 2017 aangesloten bij Lintberg.