Vakgebied

Legal

Salaris

Salary undisclosed

Locatie

Amsterdam

Dienstverband

Permanent

Headhunter

Lexius Search
The organisation
Our client is a global organization specialized in fiduciary services, fund administration and other financial services on behalf of multinational companies, private equity and real estate firms, private investors and/or their advisors.
The position
The Teamleader Legal is accountable for managing and developing team members and the profitability of own client portfolio. This position is also accountable for revenue generation and development and client satisfaction and retention, as well as performance
and growth of existing client portfolio.
Tasks & responsibilities
Be accountable for time writing, revenues, margins and client satisfaction for own client portfolio.
Proactively develop relationships with clients and provide teams with customer feedback on services improvements
Proactively conduct strategic account reviews with all assigned customers on a regular basis to review service needs and usage trends. Identify products and pricing that meet customer needs
Responsible for organizing visits to and from clients. Prepare meetings with other attendants (having the right information, actions, items to discuss) and take care of follow up.
Conduct Rate / Billing reviews to identify trends and ensure profitability and debt collection
Responsible for billing clients of own team (monthly)
Address client concerns and ensure the resolution of issues in a timely manner, with follow-up when appropriate.
Deliver ongoing market analysis and assessment of competitors and market intelligence with a focus on the future and value creation.
Retain client accounts through the development of strong relationships with key decision makers and users within the client organization
Meet specific customer needs
Meet KPIs and targets set by the Director
Team management

Resource team appropriately to ensure high satisfaction
Supervise team to ensure quality of work and efficiency
Review and analyze productivity percentage of team members (weekly/monthly)
Develop and coach team members

Support sales force in quoting as required
Perform chargeable client work
Approve time charged to client accounts
Entrepreneurial business focus
Superb execution
Leading and developing talent
Building relationships
Impact and Influence
Decision making and problem solving
Integrity and reputat
Candidate profile
BA or Master Degree in Law
Preferably a minimum of 7 years working experience with an administrative service provider
Preferably a minimum of 3 years working experience in coaching and leadership
Account Management and professional expertise
Excellent (English) written and verbal communication skills
The offer
We offer you: a challenging job in a rapidly expanding international company, with an informal company culture. There is the opportunity to expand your knowledge with excellent prospects for a further international career in one of our worldwide offices.
Interested?
If you are interested in this opportunity, please send your curriculum vitae in English and covering letter outlining your interest in the role via the form below.
Deze procedure is gesloten (14-01-2020).
Over deze headhunter - Lexius Search
Lexius Search is een onafhankelijk bureau dat zich richt op de ondersteuning van opdrachtgevers bij werving en selectie van gekwalificeerde professionals. Lexius Search is een landelijk werkend werving en selectiebureau. Lexius Search richt zich op hoogwaardige posities op het gebied van Legal, Notarieel, Fiscaal en Financieel.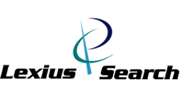 Meer vacatures van Lexius Search op Lintberg
Lexius Search is sinds 2012 aangesloten bij Lintberg.