Deze procedure is gesloten (17-07-2022).
Vakgebied

Sales

Salaris

Salary undisclosed

Locatie

Amsterdam

Dienstverband

Permanent

Headhunter

Top of Minds Executive Search for Jack Link's
The organisation
Jack Link's protein snacks are characterized by lots of flavor, lots of passion, and lots of energy to power through. That same authenticity is reflected in the culture of the company. The people at Jack Link's are not the typical corporate button-up types. They never do things the way everyone else does them and do not get tangled up in corporate complexity. That results in a dynamic, open, diverse, and high-paced atmosphere that offers personal growth, ample challenge, and real impact.
"Our philosophy is: feed your wild side. For us, that means rolling up your sleeves, not shying away from challenges, taking risks, and pushing hard to get things done." – Robbie Pastoor, HR Director EMEA
Jack Link's is the world's number 1 in branded protein snacks. Beef jerky is the flagship product of the company. Delicate strips of premium beef combined with family recipes, seasonings, and a little smoke. The result: delicious, high-protein meat snacks. Jack Link's is a family-owned business that started about 130 years ago in northern Wisconsin. It has grown from scratch to become the leader in its industry with over two billion in annual revenues globally.
Jack Link's is a global powerhouse with 3,500 team members worldwide and major footprints in the US, Europe, Latin America, Australia, and Asia. EMEA is one of its main growth regions. In 2014 the company set its first steps in Europe and acquired the BiFi and Peperami brands from Unilever. Today, EMEA's total annual revenue amounts to over 200 million euros, representing about ten percent of global sales, and is showing double-digit growth. Jack Link's in Europe has a strong presence in Germany, the UK, and the Benelux. The European headquarters is housed in an open, inspirational, and vibrant office at a great location in Amsterdam. The EMEA team, of about seventy people is highly international (over 25 different nationalities) and dedicated to continue the impressive European expansion.
The position
E-Commerce is a key growth area for Jack Link's – the US-based global leader in branded protein snacks. The Head of E-Commerce EMEA is responsible for developing and implementing the European e-Commerce strategy to accelerate sales and optimize the company's online presence across all online channels.
Tasks & responsibilities
Over the past years, the Jack Link's EMEA division has made considerable steps in building its online business. They have put in place a strong e-Commerce strategy and are achieving high growth (online now represents close to ten percent of EMEA's total revenues). It will be up to the new Head of E-Commerce EMEA to further develop and execute the online strategy across product categories and establish and optimize presence in all online channels across all brands (Jack Link's, BiFi & Peperami). They will be reporting to the Managing Director EMEA and be a member of the global e-Commerce steerco where learnings and best practices are shared between geographies.
"We're looking for a strategic mastermind with a bias for action and delivering results. Someone who deeply understands the intricacies of e-Commerce and takes personal ownership for the next phase of growth across the EMEA region." – Jan Pieter Schretlen, Managing Director EMEA
The main challenge for the Head of E-Commerce EMEA is to continue the company's current online growth rate now that they are past the phase of quick wins. The most promising directions for the Head of E-Commerce EMEA will be strengthening the brand's presence in large online marketplaces (e.g., Amazon), deepening its position in current markets (the UK, Germany, and the Benelux), and entering new countries.
Jack Link's e-Commerce strategy revolves around marketplaces (e.g., Amazon), retail.com (e.g., Tesco.co.uk), specialist retailers (e.g., Picnic), and pure players (e.g., jerkyhouse.de). In their strategic assessments and initiatives, the Head of E-Commerce will not just focus on sales but needs to bring a holistic business perspective touching all functions involved, including customer experience, brand building, partnership selection, fulfillment, continuous growth, and entrepreneurship. As they are planning several years out, they will ground their vision in analytics to drive the business forward through innovation (e.g., product, marketing, or channel).
Working in a small team with direct and indirect reports, the Head of E-Commerce EMEA should roll up their sleeves and balance daily execution with longer term strategy development. It also means they should initiate and coordinate collaboration with other teams, such as Category Management, Sales, and (Trade) Marketing, and with external partners and agencies. Additionally, the Head of E-Commerce EMEA works closely with multiple senior-level stakeholders in EMEA and globally.
It is the breadth of the role that makes it both challenging and exciting. It offers hands-on management and strategic optimization across numerous digital channels and geographies. For those who crave speed, entrepreneurship, freedom, and agility, the position of Head of E-Commerce is a perfect fit.
Candidate profile*
Over eight years in e-commerce
Marketplace expert
Strong strategic capabilities
Analytical and data-driven
Cross-functional team player
* Research shows that while male candidates feel confident enough to apply when they meet about 60% of the requirements, female candidates only apply when they tick every box. So if this role has your name on it, but you're not sure about the criteria, we still want to hear from you.
Interested?
You can apply to this position by using the link below. Jack Link's is working with Top of Minds to fill this vacancy.
Deze procedure is gesloten (17-07-2022).
Over deze headhunter - Top of Minds
Top of Minds is een Executive Search bureau met een internationaal werkveld. Onze recruitment Consultants hebben allemaal een individuele focus, van FMCG en Retail tot e-Commerce en Digital. De succesfactor van Top of Minds is storytelling: great stories attract great people.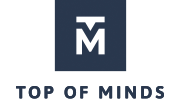 Meer vacatures van Top of Minds op Lintberg
Top of Minds is sinds 2011 aangesloten bij Lintberg.