Deze procedure is gesloten (03-05-2017).
Vakgebied

Finance

Salaris

Salary undisclosed

Locatie

Rotterdam

Dienstverband

Permanent

Headhunter

Career Openers voor Helloprint
The organisation
Hans Scheffer (CEO) and Wouter Staatsen (interim CFO) about their organisation:
"Helloprint is a very ambitious and entrepreneurial company. The board and shareholders are willing and committed to take risks and invest in the future of the company. We have set ourselves a fast and ambitious pace. Our staff have a commercial mindset and see opportunities in today's dynamic market.
We want to play a leading role in the online print business. We are taking the right steps, but we're not there yet. The ideal new CFO has strong interpersonal skills. He or she scores high on empathy, sensitivity and flexibility. The new CFO is ambitious, 'hungry' to achieve the goals set, and also commercially focused.
Decisions at Helloprint are taken using B.I. and data, among other things, so it is important that the new CFO is analytically very strong. The new CFO will get the opportunity to become an equity partner in the company.
To fit in with the Helloprint culture, people really need to be 'hungry for growth' and able to work in a less structured environment than the norm. We believe our culture is what really differentiates us from other companies. Our culture is based on five important elements: core values at its heart; high performance; freedom and responsibility; context not control; and design yourself.
We're a company that strives to be the best. That's why we search for typical 'A Players' – people who are high performers. At Helloprint, we have mutual goals: to excel and grow at the highest possible level. We're not just 'doing our jobs'. We want to be on top and perform optimally. Therefore, we give our staff responsibility and goals to achieve."
The position
The new CFO of Helloprint will assume final responsibility for the organization's Finance department. He or she will also act as a strategic partner to the CEO, helping to deploy, implement, evaluate and adjust Helloprint's (commercial) strategy. He or she will provide Helloprint with analysis and advice to help it achieve its goals.
The CFO of Helloprint will have the following direct reports: a Finance & Administration Manager, a Business Controller (future role), Business Intelligence and a Legal Manager (potential future role). The Finance & Administration department consists of 6 people.
Tasks & responsibilities
Management and strategy:
Direct and steer the business together with the CEO. Optimize business processes
Responsibility for the strategic multi-year Business Plan and investment decisions
Business Control:
Provide clarity as to the financial performance of Helloprint
Act as sparring partner to the Marketing department: e.g. challenge marketing expenditure, the effectiveness of the marketing spend, manage its costs (overheads) and monitor its budget
Coordinate and optimize all daily, weekly, monthly, quarterly and annual forecasts, the budget and the long-term planning process
Provide the standard and ad-hoc analyses of Helloprint's financial, operational and commercial performance. Offer support for fact-based decision making and help establish the Finance department discipline across the organization.
Finance & Administration:
Manage an accounts team of six, headed by a Senior Finance Manager responsible for day-today management
Final responsibility for the accuracy, completeness and appropriate structure of all financial accounting processes (GL, AP/AR management, tax (VAT, corporation tax, payroll tax), including interaction where relevant with auditors, tax authorities and banks
Other:
Control & Risk: responsible for internal audits, expense sheets and authorization procedures of e.g. purchase-to-pay processes
The (future) Legal staff will report hierarchically to the CFO
Corporate housekeeping: Chamber of Commerce, bank, contract management and keeping data room up to date
Candidate profile
Master's degree in Business Economics, International Business or Business Information, ideally combined with an RC track
Minimum of 10 years of experience in business control and finance; ideally combined with strategy consulting or management
Strong technical/IT aptitude
Knowledge of ERP systems is an advantage
Experience of working in an international environment
Experience in e-commerce is an advantage
In-depth knowledge of accounting and reporting processes
Fluent in English
Competences
Strong communication and interpersonal skills within a multicultural environment
Self-aware, non-egocentric person with a strong personality
Proactive mentality with willingness to attain a position in the company by demonstrating added value and building a solid financial role in a fast paced, collaborative, highly performance-driven culture
Excellent analytical skills combined with an urge to understand the business drivers behind the numbers. Willing and able to switch between various levels of complexity on a daily basis
Strong relationship builder who is able to work effectively with a creative and business-minded team
Pragmatic, energetic and enthusiastic person. Ability to prioritize in real time: to know what's important
Hands-on: ability to have a helicopter view while being willing and able to attend to practical matters at the same time
Terms & conditions
The remuneration for this role is in line with the level of the position. The new CFO will have the option of investing in the company.
Interested?
You are invited to apply for this position by using the form below. For more information, please contact Rainier Beelen from Career Openers at +31 (0)88 023 54 14.
We have an extensive job profile available to send you if you are interested.
Deze procedure is gesloten (03-05-2017).
Over deze headhunter - Career Openers Young Executives
Bij Career Openers geven we toptalent het stuur in handen van hun eigen ontwikkeling. Al twintig jaar lang geven we hen betrouwbaar en onafhankelijk advies over hun loopbaan en leiderschapsontwikkeling. We delen hierbij interessante en relevante Managers & Directors posities, maar dit is nooit ons vertrekpunt. Zie ons als een extern klankbord wat helpt belangrijke loopbaankeuzes te maken. Niet alleen nu, maar gedurende de gehele carrière van onze kandidaten.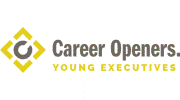 Meer vacatures van Career Openers Young Executives op Lintberg
Career Openers Young Executives is sinds 2009 aangesloten bij Lintberg.