Deze procedure is gesloten (29-08-2022).
Vakgebied

Sales

Salaris

Salary undisclosed

Locatie

Berlin

Dienstverband

Permanent

Headhunter

Nobel Recruitment
The organisation
Are you ready to lead the most promissing region for a FinTech company that in a period of 4 months they raised over 200 Mio.$ ? These SaaS Unicorn epower different businesses to reach their full potential by automating its payments and back-office work
The position
In this role you will be responsible for building, coaching the Sales team, develop and implement sales strategies. Inspire by "winning sports team" the company is building a high performance unit based on flat hierarchy and team work, where everyone can contribute with their strenght and learn for others ??
Tasks & responsibilities
As a Commercial Director your responsibilities include:
Develop and implement sales strategies
Prepare operational and financial sales department reports
Oversee the management, learning, and career development of the sales team
Directly coordinate cross-selling and joint marketing initiatives to maximize exposure and profitability
Candidate profile
What´s expected from a Country Manager:
Bachelor's degree or equivalent experience
3+ years' of sales leadership experience
5+ years' of experience in sales
Strong leadership skills
Interested?
Does this seems like your next step? Just apply by using the link below.
Deze procedure is gesloten (29-08-2022).
Over deze headhunter - Nobel Recruitment
At Nobel our job is to help you find that perfect, next step in your career. We have experience on the inside and as the only Dutch agency focussing on SaaS, we're happy to connect you with one of the many befriended companies in our network.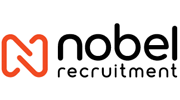 Meer vacatures van Nobel Recruitment op Lintberg
Nobel Recruitment is sinds 2017 aangesloten bij Lintberg.