Vakgebied

Management

Salaris

Salary undisclosed

Locatie

Wageningen

Dienstverband

Permanent

Headhunter

Velde Groep for Stichting ICRA
The organization
Stichting ICRA is a non-profit organization, founded in 1981, based in Wageningen (the Netherlands) and with additional representation in Montpellier (France), West and East Africa and Latin America. A small but steadily growing international organization, with a current total of 18 employees and an increasing network of associated professionals and alumni in Africa, Asia and Latin America.
ICRA's goal is to help end poverty and hunger and to promote sustainable resource use. This cannot be realized by technology and money alone. ICRA believes that this can only emerge when people and organizations address their collective challenges by working together, sharing knowledge and achieving their own solutions.
ICRA strengthens innovation capacity of the agribusiness/rural development sector by training trainers, facilitators and coaches, who can broker partnerships, build trust and facilitate effective relations between agribusiness partners and business support services.
In the Global North and South, ICRA works with government departments, research institutes, universities, development agencies, business support services, farmer organizations and the private sector, constantly developing new ways of improving smallholder livelihoods and inclusive agribusiness.
ICRA's headquarter is in Wageningen in the Netherlands and the Executive Director reports to an international Supervisory Board.
The position
Smallholder farmers play an important role in ensuring global food security. Yet they often struggle to make a living, sometimes because they are not able to build or maintain effective relationships with support services, consumers and other buyers of their produce.
ICRA is constantly developing new ways of improving smallholder livelihoods and inclusive agribusiness, bringing smallholder farmers, entrepreneurs, and support services together to jointly improve their businesses.
With your commercial outlook, you are going to shape the future of this unique organization! It is your assignment to transform ICRA into a strong financially independent organization that can flourish in a rapidly changing and increasingly competitive market.
Tasks & responsibilities
You feel comfortable with developing and implementing a successful business plan for ICRA: Moving from an inward-looking towards an outside-looking model. You make sure ICRA has a viable income model with a clear focus on a commercial strategy.
The ICRA team is enthusiastic and open towards new insights. You understand staff with a passion for content and with your excellent communication skills you guide them how to be more business minded. You are an inspirational leader.
You know how to seek new opportunities for global business. As the face of the organization, you actively prospect for new clients and funds in the public and private sector, in the Global North and South. Regular travel is an integral part of your job.
Over the years ICRA has been very modest in portraying itself. You are going to make sure the world knows how important ICRA's work is!
Candidate profile
Ability to build strong relationships in various cultures, creative in business development
Excellent leadership; inspiring, result orientated, honest
A relevant academic background
Commercial experience within an international environment
Ability to connect knowledge to commercial opportunities
Affinity with the field of work of ICRA
Experience with public-private partnerships, knowledge of agribusiness is a plus
Strong language skills; English is required, French is a plus
Willingness to travel frequently
The offer
Making a difference!
Opportunity to shape the future of ICRA
Enthusiastic and involved team of colleagues
Socially engaged organization
Non-formal organizational culture, short communication lines
Working with a unique concept
Internationally (inter-cultural) oriented activities
Interested?
Then apply directly via the link below. For more information on this position please contact Reinout Janssens or Vivanne Geurtz on
+31 (0)88 607 01 00.
Please note: This is not a € 100k+ position. Lintberg publishes the position because we believe it matches the level and ambitions of our members (non-profit organization)
Deze procedure is gesloten (02-02-2018).
Over deze headhunter - Velde Groep
Werving en selectie is mensenwerk. Onze consultants verzorgen solide trajecten met intensieve en verrassende gesprekken. Met een grote betrokkenheid voor zowel de opdrachtgever en de uitdagingen waar hij tegenaan loopt, als voor de kandidaat en zijn drijfveren en ambities, weten onze mensen steeds weer de beste match te maken. Onze core business: (internationaal) recruitment voor sales, management en directie functies.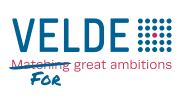 Meer vacatures van Velde Groep op Lintberg
Velde Groep is sinds 2015 aangesloten bij Lintberg.